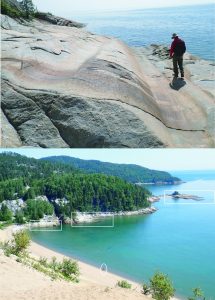 These impressive glacial grooves observed along the North Shore of the St. Lawrence Estuary (Québec, Canada) were carved into the crystalline bedrock by the Laurentide Ice Sheet.
The grooves mark the basement of a complex sedimentary system known as the Tadoussac Delta, lying at the mouth of the Saguenay Fjord and intimately tied to the Late Pleistocene-Early Holocene deglaciation of the area.
The exact glacial dynamics that created these straight regular marks has still to be constrained. For more information on the formative processes and the general context, keep an eye on a forthcoming paper by Lajeunesse et al…
These grooves were visited this summer during a fantastic field trip of the ISC2018: "
Landforms, sedimentary facies and stra

tigraphic architecture of a deglacial, forced-regressive context: the Québec North Shore"
by
Pierre Dietrich, Patrick Lajeunesse and Jean-François Ghienne.
http://www.isc2018.org/field-trips#POST