Have you ever wondered what it means to start a PhD during the pandemic? Below you can get more insights.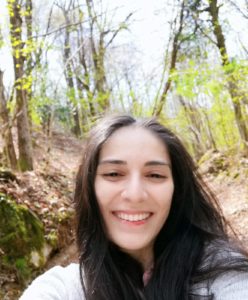 Hi! I'm Öykü, a PhD student at Politecnico di Milano in Italy. I'm originally from Turkey and did my MSc at Istanbul Technical University. My research focus is static and time-variable gravity field recovery from satellite data and local gravity field modelling. Currently, I'm working on a gravity mission concept based on cold-atom interferometry under a project called MOCAST+.
In November 2020 – as many of you can recall at the beginning of the second wave, I started my PhD in satellite gravimetry at Politecnico di Milano. Starting a PhD has its struggles, especially if you are moving to a new country, which means you are going to encounter bureaucratic procedures and problems, and pandemic just added new challenges to this transition.
What were/are my experiences?
I had big expectations – maybe it is not that big but you know, pandemic – such as working in an environment that is full of PhD students and researchers, having great progress and fill all the gaps in my knowledge in the first few months. But spoiler alert, that didn't happen. During the first month, I had to stay under quarantine after my arrival which was creating a problem for the residence permit because you have to apply as soon as possible after your arrival. Right after my quarantine, Italy went into a full lockdown and this just made things worse. Because I had to try to open a bank account, manage the social security insurance, health insurance etc. without going anywhere or waiting for an available time slot to get an appointment. I have some funny stories from that time, even though I didn't find them funny back then. I had to get a password from the social security service. But to get it, I had to get an appointment, and unfortunately, to get an appointment I needed a password. It was like an infinite recursive loop! I spent an hour or so, trying to get an answer from the service. The other most challenging thing was the language barrier which didn't help to make the procedures easier. Thankfully, I had someone – my hero – to help me!
Spending a month or more on these and having no solid scientific achievement, it started to feel like I was letting down my supervisors. I felt like I was behind everyone, behind the schedule. I again started to think that I wasn't good enough to do a PhD. In short, I lost my confidence. But when I talked to my supervisors about the feeling of being behind and having minimal progress, they reminded me that is normal, and these things normally take a lot of time especially at the start. That was the start of putting myself back on track and try to delve into my research topic.
What are my suggestions?
Even though the situation probably will get better in the following months, I want to share some of the things that helped me.
First of all, try to manage your expectations and set your goals considering that there is a pandemic. This will help you to reduce your anxiety.
Talk to your supervisor(s), get feedback and bits of advice if possible.
Try to enjoy every small achievement. This can be solving a problem in your code, having a good workday, maybe you are attending a conference and you got a compliment or feedback on your presentation… Just try to enjoy.
Remember that everyone has a different way of style executing their research. Instead of mimicking others, try to find yours.
Getting to know someone during this period is tricky but try to communicate with others who are in your shoes, it is important to remind yourself that you are not the only one who is experiencing this. You can ask your PhD student representative or head of the PhD programme if there is any platform or any events for networking between young researchers in your university/institute.
If the restrictions are not very strict and you are allowed to go and work at the office, try to do that at least 2 or 3 times a week. This will help you to focus on your work and have a better work/life balance. Plus, socialising. But of course, keep the social distance and wear a mask!
If you prefer to stay and work at home, try to specify the work hours and take breaks, go for a walk. This helped me a lot in the past few months to keep myself on track. Especially, going for a walk after lunch is the thing that I am looking forward to during the day.