The Scorpion and the Frog. This old tale, which was first documented by the movie Mr. Arkadin by Orson Welles, reports a scorpion that wants to cross a river… and asks a frog for a ride. Embarking on a lose-lose situation, both the frog and the scorpion are doomed in the tale.
Dramatic, this fable severely resembles how humans conduct their quest for resource extraction. Surface mining, a particular type of resource extraction, is devastating. It involves strip mining, open-pit mining and mountaintop-removal mining and accounts for more than 80% of ore mined each year (Ramani, 2012). Surface mining disturbs the landscape and impacts habitat integrity, environmental flows and ecosystem functions; it raises concerns about water (Miller and Zégre, 2014), air and soil quality (Mummey et al., 2002), and often also public health. Legacies of surface mining may include loss of soil structure and fertility, altered hydrology, and long-term leaching of contaminants from tailings and end-pit lakes (Isosaari and Sillanpää, 2010; Li, 2006; Ramani, 2012).
A new study debates the possible routes to deal with the legacies of surface mining. In a first instance, the authors revisit the terms remediation, reclamation, restoration and rehabilitation (R4) and clearly distinguish them in terms of the end-goal. While remediation is a more technical term and aims at removing pollutants and avoiding human exposure to them, restoration proposes the full recovery of the original ecosystem, prior to mining. Although frequently claimed as the end-goal, restoration may often not be feasible because of a myriad of constrictions.
To find out more about how the R4 is differentiated and where surface mining will likely happen in the future, check out the full study by Dr. Lima and her co-workers here.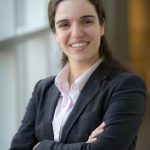 Dr. Ana Theresa Lima is an Adjunct Assistant Professor at the Ecohydrology group, Department of Earth and Environmental Sciences, University of Waterloo, Canada, and a Visiting Associate Professor at the Department of Environmental Engineering, Universidade Federal de Espirito Santo, Vitória, Brazil. Her research interests include electrokinetics, urban soils and the impact of human activity on them, organic and inorganic pollution and possible remediation techniques, and environmental policy.

References
Miller, A., Zégre, N., 2014. Mountaintop removal mining and catchment hydrology. Water 6, 472–499. doi:10.3390/w6030472
Mummey, D.L., Stahl, P.D., Buyer, J.S., 2002. Soil microbiological properties 20 years after surface mine reclamation: spatial analysis of reclaimed and undisturbed sites. Soil Biol. Biochem. 34, 1717–1725. doi:10.1016/S0038-0717(02)00158-X
Isosaari, P., Sillanpää, M., 2010. Electromigration of arsenic and co-existing metals in mine tailings. Chemosphere 81, 1155–1158.
Li, M.S., 2006. Ecological restoration of mineland with particular reference to the metalliferous mine wasteland in China: A review of research and practice. Sci. Total Environ. 357, 38–53. doi:10.1016/j.scitotenv.2005.05.003
Ramani, R. V., 2012. Surface Mining Technology: Progress and Prospects. Procedia Eng. 46, 9 – 21.