Words on Wednesday aims at promoting interesting/fun/exciting publications on topics related to Energy, Resources and the Environment. If you would like to be featured on WoW, please send us a link of the paper, or your own post, ERE.Matters@gmail.com
***
Citation: J. Schilling, R. Locham, T. Weinzierl, J. Vivekananda, and J. Scheffran. The nexus of oil, conflict, and climate change vulnerability of pastoral communities in northwest Kenya. Earth Syst. Dynam. Discuss., 6, 1163-1200, 2015
Blog by Janpeter Schilling
"Now, we will all be rich", I was told by Eduang, a Turkana pastoralist in northwest Kenya. That was in 2011, when people first heard about oil located under their feet. A year later, the company Tullow Oil actually struck oil in Turkana, announced its commercial viability and estimated the reserves to be in the neighborhood of 600 million barrels. Everybody was excited. Local community members like Eduang expected wealth and jobs. The former president of Kenya, Kibaki, called the oil discovery "very good news" in anticipation of significant revenues. So has oil been a blessing for Turkana?
To answer this question, one has to understand the situation in Turkana before oil was found. Turkana is the poorest and least developed county in Kenya. The pastoralists living in Turkana are well adapted to the harsh and dry climate but increasingly unpredictable rainfall and a higher drought frequency pose a significant challenge for the local communities. On top of the climate uncertainty come the violent conflicts between different pastoral groups. The Turkana fight particularly with the Pokot over land, pasture, water and livestock. In this very conflict hotspot the oil has been found.
Coming back to our initial question, yes, a few Turkana have gotten a casual jobs
with Tullow as a security guard or road assistant. And, yes, the water situation for the Turkana communities has somewhat improved as Tullow has given some water to the communities. However, no, the high expectations of the communities for employment and development have not been met. In addition, the communities feel that land has been taken from them and pollution associated with the oil exploration is likely to become another source of community frustration. Community road blocks and an attack on an oil site show the level of frustration.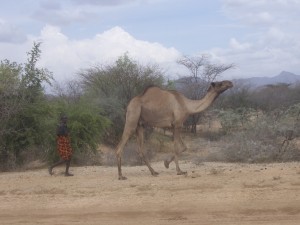 The government of Kenya, currently undergoing the process of devolution, has not used the opportunity of oil to improve the situation in Turkana in terms of education, economy, health and infrastructure. Currently, Nachoo, another pastoralist who I recently interviewed in Turkana seems to be right. Nachoo told me "where there is oil, there is conflict".