There are countless Christmas films, and almost all of them feature some form of snow, ice or cold weather. There are the classics such as Home Alone, Elf and Miracle on 34th Street, and there are the newer, shall we say 'Netflix' style, which feature Princes, Knights and Vanessa Hudgens. There's just no way to watch them all over the festive period, so let us recommend you our top 5 Christmas films with a sprinkling of cryo…
---
1 – The Polar Express
The North Pole, Tom Hanks and a boy questioning the existence of Santa… it's a classic trio for a Christmas hit. The Polar Express is an animated, joyful film focusing on self-discovery and friendship at Christmas time. The film is based on a children's book by Chris Van Allsburg. Originally released in November 2004, it features annually in most cinemas around the world, netting now $313 million in box office sales.
Christmassy quote: 'Though I've grown old, the bell still rings for me, as it does for all who truly believe.'
Chill factor: 4/5: Arctic, North Pole, endless snowy scenes and environmentally friendly travel.
2 – Klaus
Whilst Netflix has some pretty terrible rom-com Christmas films, it also has some excellent modern ones with a classic format. One of these is the English-language, Spanish-animated Klaus. Jesper, the lazy, spoilt son of the Royal Postmaster General is sent to the village of Smeerensburg, where he must post 6000 letters before he can return home and have access to the family money. Only problem, this tiny village rarely sees that much post. Jesper meets Klaus, the village toymaker who secretly delivers a toy to a boy after he sends a letter. News spreads, and suddenly Jesper is delivering letters and toys to kids all across the town. Acts of kindness, feuding families and a marriage all take place in this 97-minute feel good film.
Christmassy quote: 'A true selfless act always sparks another'.
Chill factor: 3/5: Scandinavian sounding village, snowy setting, cold weather.
3 – The Snowman
This timeless classic is a regular Christmas eve feature on TV around the world. Originally animated in 1978 and based off a picture book by Raymond Briggs, The Snowman has no speaking roles but is set to beautiful music. After heavy snowfall, James builds a big snowman in his back garden. At midnight, the snowman comes to life and starts playing inside the house with James, until he sees a photo of the Arctic on the wall. The two then take flight, firstly over the UK, before heading to Norway and to the Arctic, where they join other snowpeople dancing and celebrating Christmas. Eventually the two head back home, and when James wakes on Christmas day, the snowman has melted, but James will always remember his adventure.
Christmassy quote: Well… there's no talking.
Chill factor: 5/5: A snowman who comes alive, Aurora Borealis, a snowpeople party in the Arctic and lots of snowfall.
4 – How the Grinch stole Christmas/ The Grinch
How the Grinch stole Christmas (real-life actors and released in 2000) and The Grinch (animated and released in 2018) are both based off the Dr Seuss book 'How the Grinch stole Christmas'. Our personal favourite: the real-life version with Jim Carey playing the fuzzy, green grump. The Grinch lives in a cave at the top of the mountain (excellent for avoiding coronavirus), far away from the village of Whoville and all of the happy, Christmas-loving people. He hates Christmas and anything joyful, and even tries to sabotage Christmas celebrations for the village. But in true festive fashion, he sees the error of his ways and understands the true meaning of Christmas.
Christmassy quote: 'Maybe Christmas doesn't come from a store. Maybe Christmas perhaps means a little bit more.'
Chill factor: 3/5: A snow-covered mountain, icicles, and a snowy village.
5 – Happy Feet
I know, I know… not technically a Christmas film. But after the year we have all had, I think we can do with some upbeat, cute happiness in the form of a tap-dancing penguin. Mumble is born without the ability to sing, which is crucial in a world where you have to sing to attract a soul mate. But whilst he can't sing, he can tap dance! We follow him on his adventures to finding a colony where he can fit in. This animated film also includes important ecological problems such as overfishing and plastic pollution in the ocean.
Christmassy quote: 'I must retire now to my couch of perpetual indulgence.' This could be a Christmas, or lockdown quote if we are honest.
Chill factor: 5/5: Hello! There are dancing penguins!
Edited by Marie Cavitte
---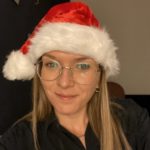 Jenny Turton is a postdoc working at the Friedrich-Alexander University in Germany and is obsessed with Christmas. Her research focuses on: testing the best mince pies, drinking Glühwein and dreaming of a white Christmas. For the other 11 months of the year, she researches the interaction between atmospheric processes and ice melt in northeast Greenland. She tweets from @Turtonj1990.