The previous post addressed the issue of why academics should bother with science communication and outreach activities, based on a recent article by Prof. Iain Stewart and Ted Nield. This next post in the series is concerned with what the general public already know about geology/geoscience, and how this underpins what should be, or needs to be, communicated, and how.
How many times have you, as a scientist, complained that the public simply won't understand your research, or, as a member of the public, complained that scientists are incapable of communicating science on a level that you can understand? Accordingly, how often is it that this 'general public' will take 'scientific' information as gospel, irrespective of its source, based on a lack of direct communication? Furthermore, how many of you reading this can actually give an answer to the most basic question: What is science? (Intrigued to know actually, not condescendingly, more through curiosity – please comment below!)
Stewart and Nield include some rather alarming statistics in their analysis. For example, in the US less than one in five residents meet a minimum standard of civic scientific literacy (whatever this means – probably a basic understanding of scientific concepts, qualitatively). Although the study quoted is from 1997, that's still a pretty poor stat. Clearly, if this trend is still valid, it shows that there is a deep-seated issue with science in the US. As a non-US citizen, I'm not gonna touch that one with a 12ft barge-pole, but will say that voting for Mitt Romney is unlikely to change this in any positive way.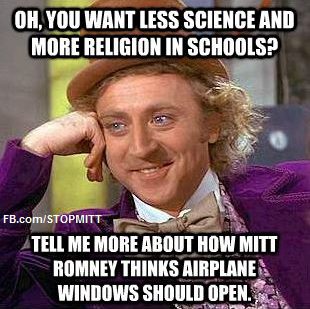 Science is no longer comprised of the 'Holy Trinity'; that is, Biology, Chemistry, and what was it again? Ah yeah, Physics. The realms that science has probed has led to the development of numerous sub-sciences, each vast and disparate in their own right. Somewhere in the Great Melange (my phrasing..), sits Geology. Linked to many other scientific disciplines, but still a sort of outgroup from the great sciences. As such, is it right for geoscientists to expect the general public to have a grasp, or basic understanding of any geological science? How much can we expect them to know? Stewart and Nield phrase this issue as a matter of 'geo-illiteracy'; this is clearly not intended as an insult, more that this issue is driven by numerous factors that act to compound the need for an understanding of geoscience. With so much awesome science out there, what is the role for geoscientific information? As I mentioned in the previous post, geoscience is actually core to quite a few topical issues. Without geoscience, we wouldn't know about oil, gas and energy, less about climate change, nothing about historical biodiversity, nothing about how the world actually works, and how it might work in the future.
One bit of this paper which was great, in my opinion, was the concern directed towards proprietors of Intelligent Design and Young Earth Scientists (not to be confused with Young Earth Scientists, who are an active group of young geologists!) According to the same study mentioned above, over half of people in the US think that dinosaurs and early humans co-existed (this is strictly true, as birds are dinosaurs..). This is a genuine educational issue, the roots of which are deeply ingrained in religious beliefs (largely), and poses a challenge to Earth scientists in overcoming pseudo-science, and being able to effectively communicate the (I'd say counter-evidence but that implies that such groups possess any evidence) counter-argument in a convincing, scientifically rigorous, and morally objective manner. That's a pretty difficult task, as I'm sure any scientist who's gone head-to-head with a, erm, religiously vocal person has experienced (not that the two are completely independent).
Such discussions inherently become a battle of 'geofact vs "fact"'. No-one ever budges position, and it's like two brick walls smashing into each other. Not necessarily a communication issue, perhaps more a stubbornness issue. This is also an inherent issue with communication to the wider public. There is no repository for geoscientists to pick 'facts' up, and wield them as communication tools. Controversy and uncertainty run rife with the geoscientific community (this is also called 'science', when generally progressive, usually fueled by beer and beards (see video below)). It's no secret that there are those, particularly within the regulatory arena, policymaking framework, and lobbying organisations who will [mis-]use uncertainty as a way of supporting their own views, and manufacture public doubt by manipulating what scientists actually mean by scientific uncertainty (nothing is fact, everything just has various degrees of evidence and support. That's probably for philosophers to discuss though).
This is especially so in the recent controversies surrounding fracking (hydraulic fracturing). I wrote a couple of posts earlier this year about the science behind fracking. Simplified, fracking is pretty safe, in terms of practical execution, given the right regulatory framework. It's not good for the environment in terms of emissions, although it is cleaner than coal. Nonetheless, the prevailing public voice was that fracking is bad, causes cancer, sets your water on fire etc., mostly lies and bilge spewed forth from anti-fracking campaigners such as Josh Fox (see http://fracknation.com/) and 'Artists against Fracking', with well-known geoscientists such as Yoko Ono and Sean Penn taking the lead. The result was that the policy decisions behind fracking have become more of a public relations debate than a scientifically-ground debate (in the UK and USA at least), which, in this particular instance at least, is not how things should be rolling. Imagine how different it would have been if scientists had communicated their research more effectively (I mean, most of it was stuck behind paywalls). Imagine if the anti-fracking groups were confronted publicly with peer-reviewed science countering everything they were saying (which has been done in little squabbles over the internet, mostly). Things would be quite different, based around how scientists had communicated, especially to those who clearly needed it most (not necessarily wanting, however).
In terms of what do policymakers already know, don't be surprised that the answer will actually be relatively little. It is impossible to know everything about everything, and policymakers typically have a huge range of topics or issues under their focus, and becoming a master of all is near impossible. Different communications strategies are needed here to increase scientific engagement. This is something that will be discussed in a forthcoming conference, Science Online London. I'll summarise it after, in the context of geoscience to stay on track.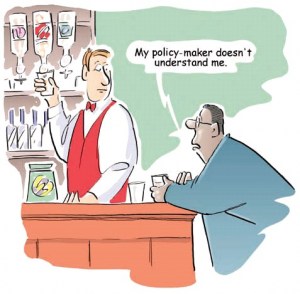 What this all bores down to, then, is what we should be communicating to different parties. There is little to be gained by communicating 'geo-facts' to people, as they may not be relevant, or even of interest. What Stewart and Nield propose, and something I entirely agree with, is to advance efforts in establishing a broader 'geo-literacy', a grounding in the basics of geoscience and a basic understanding of the principles and how things work. This will provide a foundation which can be developed, and called upon, for example when issues like fracking arise, or times of environmental emergency (e.g., landslips or earthquakes (*cough* at Italy)). That's not to say that we shouldn't also be communicating specific points about research that are interesting or relevant; it's just they will not have as high an impact (whatever that means) as would on an audience who is already familiar with the scientific basis. The next post will be a short attempt at figuring out who on Earth this 'public' is everyone keeps going on about.