The EGU General Assembly 2016 takes place in Vienna between the 17-22 April 2016. Abstract submission is now open for their fantastic range of sessions, with support applications open until 1st December 2015. These offer financial support to early-career scientists and established scientists from low, lower-middle and upper-middle income countries.
We've noted some sessions of immediate relevance to our work below: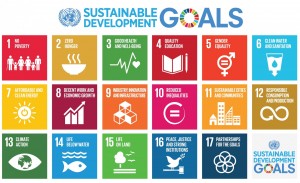 EOS15: Geoscience and the Global Goals for Sustainable Development (No Abstract Processing Charges)
In September 2015 the Global Goals for Sustainable Development' (Global Goals) were formally adopted by member states of the United Nations. Building on the Millennium Development Goals, the Global Goals aim to eradicate global poverty, end unsustainable consumption patterns and facilitate sustained and inclusive economic growth, social development and environmental protection over 15 years (2015-2030). Achieving the Global Goals by 2030 will require many communities to engage, including the geosciences. Many of the themes within the Global Goals are at the heart of geoscience education, research and practice (e.g., sustainable agriculture, water and sanitation, disaster risk reduction and resilient cities, climate change). The geoscience community should be ready and equipped to take a leading role in promoting and facilitating responsible Earth stewardship, for the public good and global development. In this session we welcome abstracts from across all divisions that demonstrate examples of, or ideas for, effective engagement with the Global Goals. Recognising that these goals are at an early stage of implementation, we particularly encourage abstracts that offer (i) creative ideas to improve the involvement of geoscientists in the fight against global poverty, (ii) lessons learnt from engagement in the Millennium Development Goals, (iii) insights into the transitions required within geoscience education, research and practice to support sustainable development, (iv) case studies of meaningful stakeholder participation and technical capacity strengthening, and (v) case studies of public sector/private sector/civil society partnerships to promote sustainable development. Through this session we aim to collate and develop strategies for sustained, effective geoscience engagement in the implementation of the Global Goals. The best format for the session will be determined based on the abstracts submitted, however we believe that a PICO session may be the best option to promote dialogue and interaction.
NH9.3:  Natural Hazards Education, Communications & Science-Policy-Practice Interface
This session addresses knowledge exchange between researchers, the public, policy makers, and practitioners about natural hazards. Although we welcome all contributions in this topic, we are particularly interested in: (i) The communication (by scientists, engineers, the press, civil protection, government agencies, and a multitude other agencies) of natural hazards risk and uncertainty to the general public and other government officials; (ii) Approaches that address barriers and bridges in the science-policy-practice interface that hinder and support application of hazard-related knowledge; (iii) The teaching of natural hazards to university and lower-level students, using innovative techniques to promote understanding. We also are specifically interested in distance education courses on themes related to hazard and risk assessment, and disaster risk management, and in programmes for training in developing countries. We therefore solicit abstracts, particularly dynamic posters, on all aspects of how we communicate and educate the better understanding of natural hazards. The ability to have graphic screens at poster sessions is available (if pre-ordered through EGU), as is a location to put hands-on demonstrations or other material. We welcome both oral and poster presentations, and hope to ensure ample time for discussion.
Read an article reflecting on this session at EGU15
NH9.5: Urban Hazards and Risk in Developing Countries | PICO Session
This PICO session will address natural hazards and risk in urban areas of developing countries, including the role of humans in magnifying or decreasing those hazards. In urban areas of developing countries, hazard and risk analysis presents challenges such as (i) data collection, (ii) rapid informal and unplanned development creating large demands on services and infrastructure, (iii) complex natural-human systems, (iv) limited resources and capacity, (v) interaction of natural and anthropogenic hazards including cascading and concurrent hazards and (vi) communication between science, policy and the public. Here, we define "developing countries" as countries/regions with a low to medium human development index, according to the United Nations. We welcome submissions from a range of stakeholders to share their innovative theoretical and practical ideas and success stories of how urban risk can be understood and addressed in cities and towns across developing countries. Presentations will cover a variety of topics including: database and archive construction; modelling, instrumentation and tools; conceptual understanding of multi-hazards and complex natural-technological systems; and communication and policy. We anticipate a lively discussion and the sharing of best practice and novel ideas to reduce the impact of hazard events in urban areas across developing countries. This session is particularly topical given that the internationally-agreed 'Sustainable Development Goals' have included (Goal 11) the need to make cities and human settlements inclusive, safe, resilient and sustainable.
Other sessions: