Join us on Thursday 29th October at King's College London, for a special documentary viewing and discussion with Solmaz Mohadjer, founder of earthquake-education charity 'Parsquake'.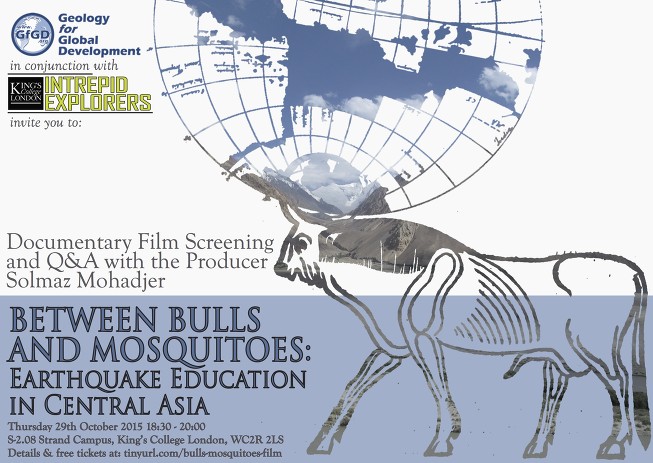 Parsquake is an organisation working to develop, implement, improve and distribute earthquake education packages all around Central Asia, particularly Tajikistan, Afghanistan, and Iran. Solmaz Mohadjer, a seismic hazards researcher at the University of Tübingen (Germany), is the Founder of Parsquake. She is visiting London to speak at our annual conference (tickets still available) , and has agreed to speak at the first Intrepid Explorers–Geology for Global Development joint event.
Following some brief introductory remarks, we will show a documentary made by Solmaz called 'Between Bulls and Mosquitoes – Earthquake Education in Tajikistan'. Solmaz will then share some reflections and answer your questions on topics such as working in Central Asia, seismic hazards, indigenous knowledge of natural hazards and communicating to build resilience.
Register Here (free): www.earthquakeeducationcentralasia.eventbrite.co.uk
Find out more: http://www.intrepidexplorers.co.uk/explorer-profile-mohadjer/4590798195