Following a recent discussion with staff at the Humanitarian Futures Programme, an independent policy research initiative based at King's College London, an important opportunity emerged for YOU to support one of their programmes.
The 'Dialogues for Disaster Anticipation and Resilience' project is designed to bridge the gap between those who make science and those who use science to make decisions… "Scientific learning and technological innovation hold tremendous opportunities for strengthening capacities to prevent, prepare for, and respond to future crises. Yet unlocking this disaster risk reduction potential remains dependent on developing approaches which support effective dialogue between 'those who make science' and 'those who use science to make decisions'. Only through sustained two-way dialogue will those with 'humanitarian' responsibilities know what questions to ask of emerging science and technology, and those with scientific and technical expertise be able to understand how their learning can better inform specific humanitarian decision making processes and contexts. " 
The dialogues project, therefore, is "a toolkit and practical guide to share emerging learning about those approaches which can support effective dialogue and appropriate application of scientific and technological learning to promote resilience to a range of potential future risks."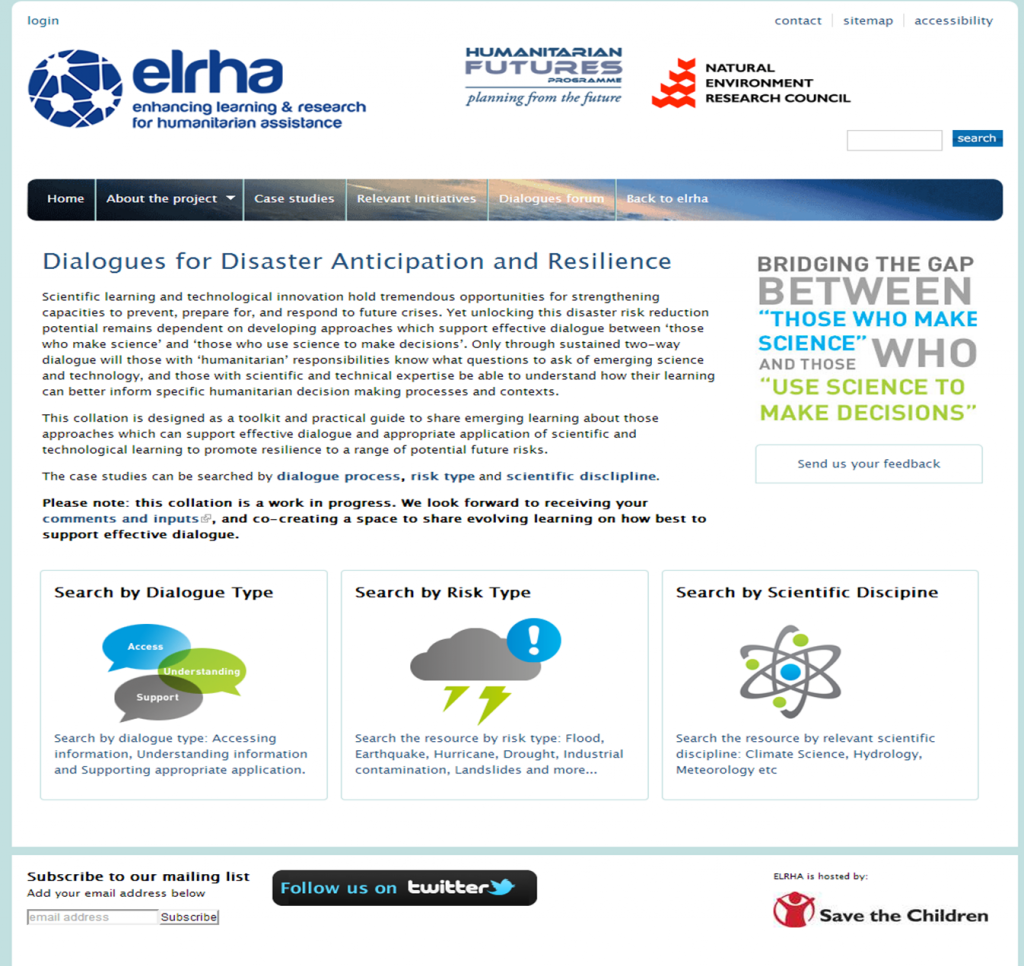 On the dialogues website (available here – http://www.elrha.org/dialogues) you can search for information based on dialogue type (accessing information, understanding information, or supporting appropriate application), search by risk type (earthquakes, hurricanes etc) or search by discipline (hydrology, seismology etc). These searches come up with a series of case studies, in which a knowledge exchange process is outlined and its impact assessed. On each of these case studies you can add your comments and suggestions. You can also submit general thoughts after looking at these case studies via their online survey.
We would love GfGD members to get involved in supporting this project – by looking at some of the case studies and adding any comments that you may have. You could gather in a small group and talk through the tool and 1-2 case studies together. If you are based at KCL, Southampton, Sussex, UCL, Reading, Liverpool or Portsmouth – there will be opportunities to attend facilitated trials of this system (all times, locations to be confirmed). Keep an eye on the blog for further information and updates!