The summer is a busy period for many people and it can be hard to keep track of all that is going on. We're taking the opportunity today to give you an update on GfGD's work, and key ways in which YOU can get involved…
Blog & Image Competition
There is still time (just!) to apply for our 2013 blog and image competition, full details can be found here. The deadline is midday tomorrow (15th August 2013), and there are a range of prizes for both written articles and photographs.
GfGD University Groups
University Groups are a core part of our work, giving student with an interest in geology and international development an opportunity to come together and outwork this interest. This could be in the form of seminars, careers events, discussion groups, fundraising, supporting a particular project, or getting involved in our national programme of work. Over 2013-2014 we'll be working to strengthen our existing groups, and would love to hear from students in the UK interested in setting up a new group. Contact us using our online form.

'Fighting Global Poverty – Can Geologists Help?' – National Conference
If you haven't heard about our first National Conference yet, where have you been? On the 23rd October we'll be gathering students and recent graduates in London for what I'm sure will be an excellent day of inspiring stories, debate and networking. We are very pleased to welcome Jeremy Lefroy MP to give the opening remarks and Dr Martin Smith (Science Director, Global Geoscience, British Geological Survey) to give the keynote address in the afternoon. There are also many opportunities for you to get involved, including presenting a poster (deadline now extended to 16th September) and joining in the afternoon debate. Tickets are allocated on a first come, first served basis, with registration now open online (£5 student/unwaged, £10 employed).
Hazard Factsheets
Don't forget the brilliant opportunity we have to contribute to the production of hazard factsheets, for use by development NGOs. This opportunity is open to all geoscience students, at both undergraduate and postgraduate level, recent graduates and University Groups. If you would like to know more, please download our Information Sheet (with full details of what is required, what to include, and how to begin).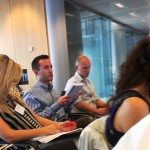 Placement Reports
We have a growing collection of reports on our website, from past placements. The latest reports are from Julian Templeton (University of Lancaster, left), who undertook a weeks placement with the Humanitarian Futures Programme and British Geological Survey in July 2013, and Dawn Brooks (Imperial College London) who undertook a water-focused project with the NGO Tearfund.
Summer Blog Series
Catch up on our latest blog series – 'Social Responsibility and Professionalism' – a practical guide to undertaking geoscience study and work with excellence, and the brilliant, popular guest blogs by David Litchfield – documenting his experience monitoring volcanoes in Ecuador.
Student Research Projects
Over the summer Alex Clarke (Cardiff University) will be undertaking a mini-research project for the NGO Tearfund. Alex will be examining the literature on water resources in the Sahel (including Niger, Burkina Faso, Mali and Chad). Christopher Barry (Cambridge University, graduated July 2013) will be working with GfGD to write a chapter on how climate change may impact groundwater resources and quality. This chapter will be integrated into a publication we are working on 'A Basic Guide to Groundwater' for use by those managing water projects overseas, but with no science training.