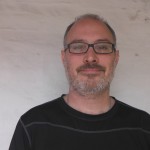 David Litchfield completed a second undergraduate degree in Geosciences with the Open University and is currently studying part-time for an MSc in Geophysical Hazards at UCL. He has a broad interest in hazard monitoring methods and how geoscientists communicate their findings with those who need it, and retains a strong connection with the Andean highlands of Ecuador. This summer, David is volunteering at a volcanic observation centre in Ecuador. After his popular  first and second posts, he writes here about eruptions and emergency planning in the small town of Baños.
Baños is a small city of around 20,000 people located roughly north of Tungurahua volcano in the Cordillera Real mountain range. It's a beautiful setting, popular with tourists coming to experience the hot, sulphurous natural spring baths, visit the many waterfalls, or take part in adrenaline sports like rafting or puenting (derived from puente meaning bridge and a kind of bungee jump but without the elastic!). It also has a long relationship with the volcano with an indigenous foundation pre-dating Spanish colonisation and with eruptions in almost every century for at least the last two millennia. A church dedicated to the Virgin of the Holy Water has walls covered in paintings of historical eruptions depicting miraculous events where Baños and its inhabitants were saved by her intervention. With gullies providing a route for pyroclastic flows and lahars from Tungurahua's crater 8 km away and about 3100 m below, and a stunning waterfall-draped cliff formed from lava flows on its northern edge, it is clearly a city that needs to stay prepared.
However, when the volcano showed signs of life in 1993, probably few living people remembered the last eruption in 1916-1918. Observed with the equipment first installed by the Instituto Geofísico (IG) in 1988, volcanic tremors began to periodically pass background levels. By 1998 volcano-tectonic (VT) seismic events were detected associated with internal fractures from the entry of magma, and in August 1999 there were observations of deep long-period events (fluid movement), increased VT signals and high SO2 emissions. As this process continued, the national civil defence raised the alert level to yellow in September, and by October over 10,000 tonnes per day of SO2 were being released, blocks were observed expelled from the crater and 2 people were injured in a phreatic (water-influenced) explosion. On 15 October, the authorities declared an orange alert, giving the 25,000 people in the area just 48 hours to evacuate.  This was no doubt an extremely tense and difficult period for the population of Baños, who on 5 January 2000 after violent clashes with the military roadblocks, chose to return to their homes and find a way to live with their violent neighbour. It was the start of the Emergency Operations Committee in the town with its network of lookouts and a strong collaboration with the Institute and its volcanic observatory. See the excellent (Spanish language) publication from the IG for more details of this and subsequent eruption events.
Baños continues, with the volcano fluctuating between periods of heightened activity including pyroclastic flows and smaller-scale evacuations of its surrounding villages, both occurring on 15 July this year. It has a contingency plan based on managing risks associated with the hazards identified in the IG's hazard map. The plan considers phases of preparation and mitigation, response and rehabilitation which identify areas of activity and those responsible for carrying them out. A key aspect locates areas of greater or lesser risk and marks evacuation routes to shelters for those threatened by each identified hazard. Throughout the town you can see evacuation signs pointing the way and these same routes are marked on its tourist maps. While the IG provides on-going scientific information on the volcano's status and potential future scenarios, all decisions sit with the public authorities as to when and what action to take.  However, this division of responsibility still doesn't stop the media from pushing for a story though; I've personally observed them asking very leading questions and looking for conflicts when asking whether the IG agrees with choices being made. The team here know how to handle this though!
As a tourist town, each establishment is required to have its own approved contingency plan. My wife and I spent a few days in Baños and I was keen to find out more about the place we were staying. Hostal Las Granadillas has an enviable position on the hillside to the north of Baños with spectacular views of the town, and most importantly for me the volcano! The family-run hostel is unusual for Ecuador, its owner Alfonso told me it was the first of its type that was built to be fully accessible to people in wheelchairs, with every one of its four floors accessed via an external ramp. Alfonso was awarded an international prize in 2009 in Spain for his efforts to remove barriers to disabilities in Baños. As a result, his plan reflects not only how to support guests during a volcanic crisis but also how his home is available to people with disabilities from the surrounding area should they be evacuated. The plan itself describes aspects such the storage and rationing of water and the requirement to surrender control of all telephones to the coordinator to ensure the best on-going communication.
I'm pleased to say that while the volcano continued to emit ash clouds during our stay (at least it was when the clouds cleared!) the plan was not required. We walked all over the immediate area, which helped me improve my understanding of the complex geography of the region with its rivers and gullies. I also had a very memorable conversation on a mountainside with an older gent sitting on his mule who asked what we were doing there. He then proceeded to point out the lava flows we could see, telling me how they were made from liquid deep underground. We then went on to enjoy a conversation about how lava forms, while my long-suffering wife looked on, wondering how yet again I'd managed to turn a perfectly nice walk into a geology lesson!
I would like to express my gratitude to the Instituto Geofísico for this opportunity and to the Open University Ian Gass Bursary for providing financial support. Any opinions, omissions or errors in this blog are entirely my own. Please let me know any comments or questions as I continue my experience over the coming weeks.