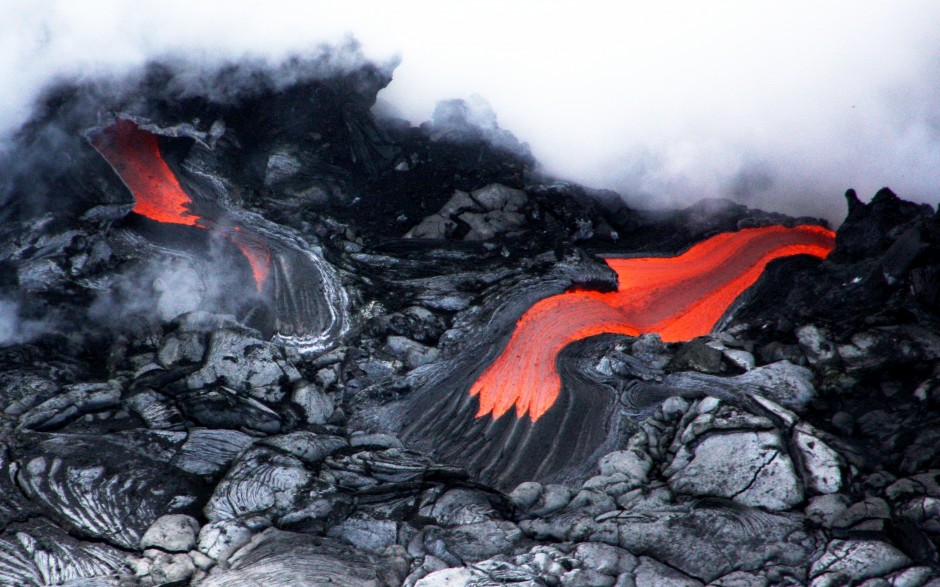 Lava from the East Rift Zone entering the sea near Kalapana (Hawaii Big Island). Image by Martin Mergili, distributed by EGU under a Creative Commons License.
The image shows a flow of basaltic lava out of a lava tunnel into the sea. The location of the scene is the shoreline of Hawaii Big Island near the village of Kalapana. Flow direction of the lava is from the bottom to the top of the image, vaporization of sea water leads to a steam plume of considerable size. Originating from the East Rift Zone, many of the lava flows in that area occur beneath a layer of partially solidified lava. The image was taken on August 13, 2010 during a touristic helicopter flight on a holiday trip.
Imaggeo is the online open access geosciences image repository of the European Geosciences Union. Every geoscientist who is an amateur photographer (but also other people) can submit their images to this repository. Being open access, it can be used by scientists for their presentations or publications as well as by the press. If you submit your images to imaggeo, you retain full rights of use, since they are licenced and distributed by EGU under a Creative Commons licence.