Ladies and gentlemen, disaster movie aficionados, and geological enthusiasts, it's time to revisit the epic showdown that was the Geo-Movie Cup 2023. This year, the competition reached unprecedented heights, welcoming new movies into the mix, adding Instagram as a polling platform, and ultimately crowning "Dante's Peak" as the winner. Let's dive in and recap this year's cup.
Instagram Joins the Game
One of the most exciting developments in this year's competition was the inclusion of Instagram as a platform for polling, in addition to Twitter/X. This decision opened up the Geo-Movie Cup to a wider audience, creating a more engaging and interactive atmosphere. Users voted via daily Instagram stories.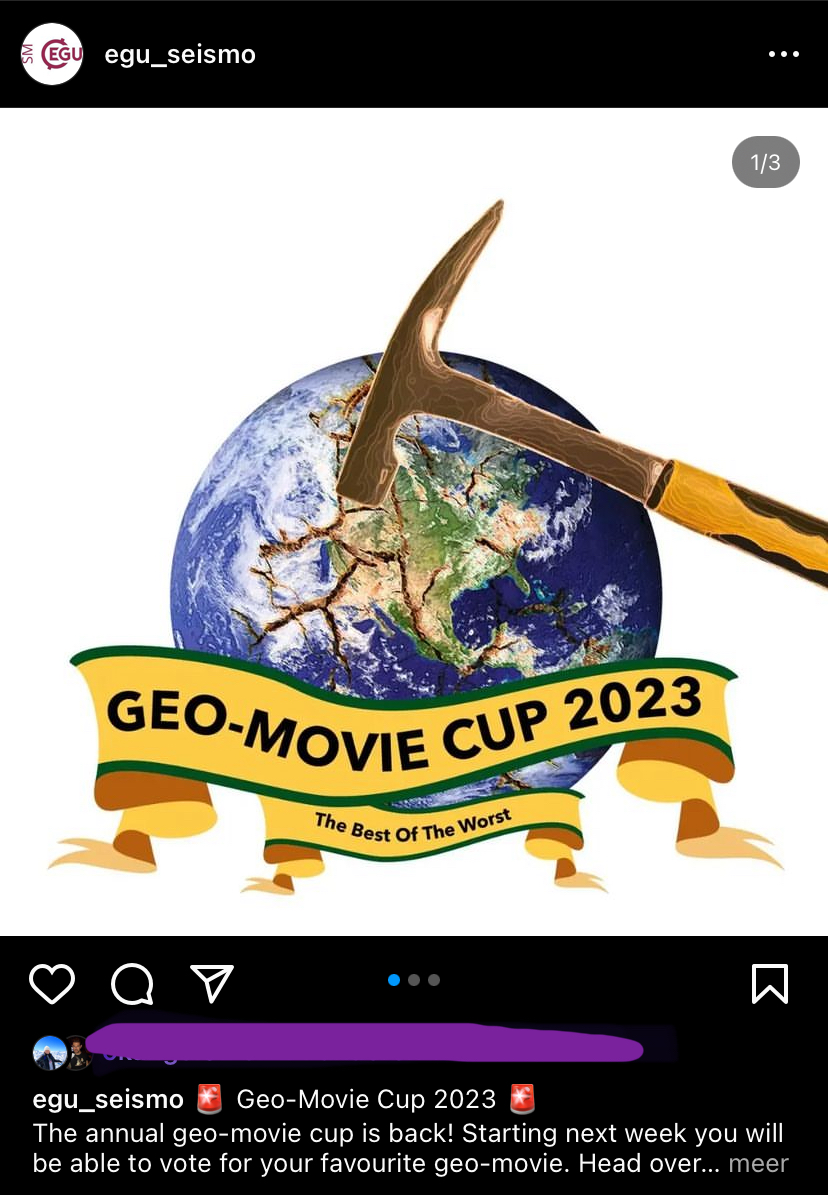 New Contenders Shaking Things Up
Geo-Movie Cup 2023 didn't just revolve around classic disaster films. A few newcomers made a significant impact, showcasing the evolution of geological storytelling in cinema. "Don't Look Up," a 2021 satirical take on climate change and public apathy, and the classic children's movie "Ice Age" garnered considerable attention and placed high in the rankings, both almost beating the classic Armageddon for a place in the semi-finals. These fresh additions demonstrated that geological themes in movies continue to evolve and capture the imagination of audiences of all ages.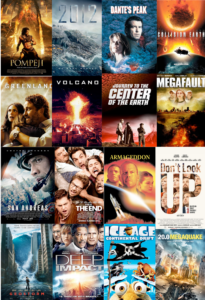 The Semi Final
In the end 2012, Dante's peak, San Andreas and Armageddon made it into the semi-final. An even mix between golden oldies and 2000's disaster movies. With 58% and 72% of the votes respectively, San Andreas and Dante's Peak made it into the big Final.
The Final: Dante's Peak Triumphs Over San Andreas
"We're going to get through this. We're going to get through it together."

– Rachel Wando (Linda Hamilton)in Dante's peak
Two geological blockbusters, "Dante's Peak" and "San Andreas," faced off in a fierce battle for the coveted title of Best Geo-Movie of 2023. "Dante's Peak," starring Pierce Brosnan and Linda Hamilton, depicts the terrifying volcanic eruption of a picturesque town. On the other side, "San Andreas," led by Dwayne Johnson, features earth-shattering earthquakes in California.
In a climactic showdown that had audiences on the edge of their seats, "Dante's Peak" ultimately emerged victorious with 63% of the votes. The competition was nothing short of intense, with both Twitter and Instagram providing real-time updates on the voting process.
Dante's Peak's Winning Formula
"You do what you can with what you have, and you never give up."

– Harry Dalton (Pierce Brosnan) in Dante's peak
What set "Dante's Peak" apart and propelled it to the top of the Geo-Movie Cup? First and foremost, it was the movie's superb execution of suspense, well-drawn characters, and the pièce de résistance Dante's Peak Volcano itself. The film's portrayal of volcanic eruptions, ash clouds, and death-defying pyroclastic flows don't give viewers anytime to relax and clearly impressed voters, making it the clear choice for this year's champion.
In conclusion
The Geo-Movie Cup 2023 was a resounding success, embracing new movies and involving a broader audience with the introduction of Instagram as a polling platform. "Dante's Peak" proved that classic disaster films can still reign supreme, and its impressive volcanological portrayal left a lasting impact on viewers (admit it we all want to be a volcanologist like Pierce Brosnan!). The competition was a fantastic celebration of geological cinema, bringing together enthusiasts from around the globe to share their love for this unique subgenre.
As we eagerly anticipate Geo-Movie Cup 2024, we can only imagine the cinematic gems and geological adventures that will compete for the title next year. Until then, keep enjoying those geological movie classics, debating their scientific accuracy, and celebrating the mesmerizing, albeit sometimes terrifying, power of the Earth as portrayed on the silver screen.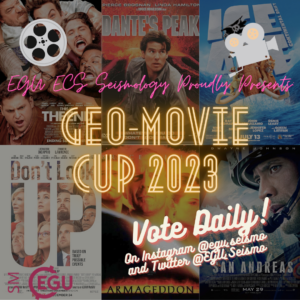 This blog post was written by Seismology ECS team members Eleanor Dunn, Laura Reilly and Ana Nap. Follow us on LinkedIn (new!!!), Twitter, and Instagram!