Hello fellow seismologists!
Are you packing your bag and making last-minute poster- or presentation-edits? Then you know what time it is: EGU General Assembly time! For all of those who are searching their way through the jungle of possible events to go to, here is a nice overview of what is organized by Seismology! Times are CEST!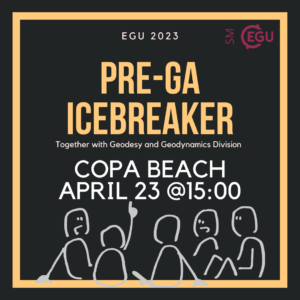 Sunday April 23rd – 2 events!
1. Pre-EGU Icebreaker event 
Time & Place: Copa Beach     15:00
We start off strong on Sunday with a bring your own icebreaker drinks event at Copa beach, to socialize with fellow seismologists, and also geodesy and geodynamics people! A leisurely event to get to know people, meet old friends, and relax before the big week. No registration needed.
Time & Place: EGU Conference Center – Foyer F    18:30
After the icebreaker event, you can walk straight on to the opening reception of EGU23!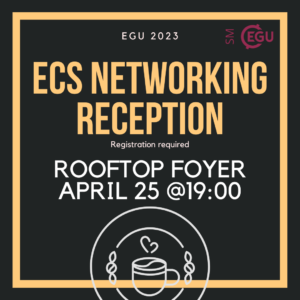 Tuesday April 25th – ECS Networking Reception
Time & Place: EGU Conference Center – Rooftop Foyer   19:00
Meet other early-career geoscientists on a relaxing evening at the rooftop. Invitation only.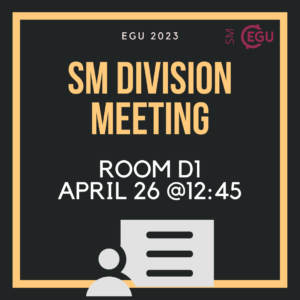 Wednesday April 26th –  Two events!
1. Seismology Division Meeting
Time & Place: EGU Conference Center – Room D1   12:45
Join us for this year's Seismology Division Meeting! Here the Seismology Division Team will present the newest information about our division and the ECS Seismology Team will inform you about their activities over the last year and during the upcoming GA.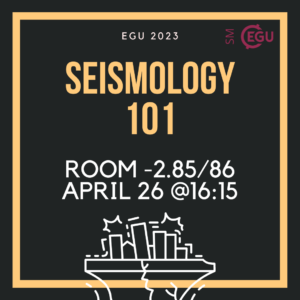 2. Seismology 101 short course
Time & Place: EGU Conference Center – Room 2.85/86   16:15
Want to convince your non-seismologist colleagues to become seismologists? Or want to listen to a talk where you finally understand everything? Want to discover more facets of seismology? Come to seismology 101 and bring your colleagues!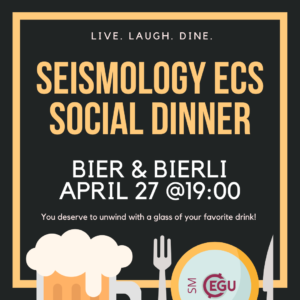 Thursday April 27th – Seismology ECS social dinner
Time & Place: Bier & Bierli   19:00
Come join us for the EGU 2023 Seismology Division ECS social dinner in Vienna! This is a great opportunity for you to catch up with your fellow researchers you haven't seen for a long time and make new friends from all over the world! Here you'll also get to meet your friendly, multi-neighborhood SM ECS team and hear about all our cool work and how to join us! Seats are limited. So, what are you waiting for? Sign up NOW. Please sign up here.
All the networking events can be found on the pop-up event page of EGU. 
Follow us on twitter, instagram and/or facebook to get the latest update about our activities.
If you read this and think: I am early-career and I would like to join the ECS team: please reach out to us during EGU23!
Looking forward to seeing you all in Vienna!
All the best,
The ECS Representatives of the Seismology Division