With only 2 days left for the kick off of the annual European Geosciences Union General Assembly (2018), here is a quick-list to go through in time for EGU.
First, read this page for information concerning activities for Early Career Scientists at the GA:
https://www.egu.eu/young-scientists/at-the-assembly/
EGU2018 mobile app
The EGU2018 mobile app is now available. Go to http://app.egu2018.eu to download the app. 

Short Courses
With an ever increasing number of short courses held at the GA,  probably there is one good course for you. The full list is here: http://meetingorganizer.copernicus.org/EGU2018/sessionprogramme/SC

Medal Lectures
Get the opportunity to listen to world class experts in various geosciences. Medal Lectures are special sessions that give merit to distinguished scientists. They are usually followed by insightful (and thought provoking)  presentations. These lectures are well attended and seats are quickly taken. Note for seismologists: the Beno Gutenberg Medal Lecture by Haruo Sato on Thursday 12th April 19:00–20:00 / Room G1! 
Sunday 8th April: The Opening Reception, 18.30-21.00 in Foyer E.
Mingle and tingle with the crowd, old, not so old, and young scientists, all in one place. A perfect place for a cheer and networking. A gathering point for early career scientists provides the opportunity to meet like-minded fellows, especially if it is your first time at the General Assembly or you are coming alone.
A quick look on the Seismology Program:  http://meetingorganizer.copernicus.org/egu2018/meetingprogramme/sm

Monday 9/04: Consider attending our yearly own Short Course: "Seismology for non-seismologists" – Monday 09th April, 13:30-15:00, Room -2.91. A dedicated short course directed to non-seismologists or early career seismologists, with a particular focus how to integrate seismology within your own research. Every year this short course has been a success. We likely won't turn you into the next Charles Richter in 90 minutes, but will rather make you aware how seismological techniques can help you in geoscience.
Tuesday 10/04 – Thursday 12/04: Meet the EGU Division President and new representatives in Seismology
Get a unique opportunity to meet with P. Martin Mai, the current president for the Seismology Division, and the new ECS representative team of the Seismology Division. You are invited to stop at the EGU booth to ask EGU related questions or discuss ways you would like EGU to improve. Martin will be available on Tuesday and Thursday before lunch: 11:15-12:45 / Room EGU Booth
Wednesday 11/04: Division Meeting for Seismology – 12:15
In the Division Meeting for Seismology (SM), the division president will present the latest information on the state of the division, statistics for abstracts and sessions in 2017, and the news related to the various divisional activities. All members are invited, and encouraged to actively participate in the meeting. Lunch is provided.  Wed, 11 Apr, 12:15–13:15 / Room G1
Wednesday 11/04: 20h: SEISMOLOGY SOCIAL EVENT: Meet us for an informal dinner at upstairs in the Bermuda Brau! We pre-booked 30 places for those who wish to attend. After dinner we will move downstairs in the Bermuda Brau for a joint TS – GD – SM division social drink. Interdisciplinary fun assured!
Early Career Scientists' Lounge. In the Red Level of the conference centre you can find a place to take a break, grab a free coffee or soft drink and gather your thoughts away from the buzz of the Assembly. The lounge is also a great place to catch up with colleagues you haven't seen in a while and perhaps strike up a new collaboration. On the notice boards you can find information about cultural activities on offer in Vienna. There is also the opportunity to provide feedback via suggestion boards.
---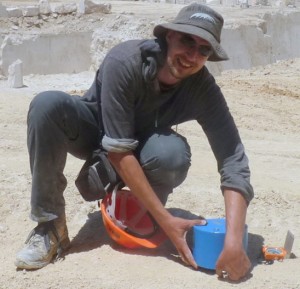 By Koen Van Noten
Koen Van Noten is an earthquake geologist at the Geological Survey of Belgium. He investigates the influence of site effects on intraplate earthquake ground motions by Did You Feel It?" macroseismic data and near-surface geophysical techniques. Koen's role as ECS is to encourage students to promote their results in seismology, geology and near-surface geophysics in various ways.