In this blog post we highlight the work that has been done by the Early Career Scientists representatives of the Seismology Division in the last two years.  In recent years the European Geosciences Union has embarked on a mission to reach out for its numerous 'younger' members by giving awards to outstanding young scientists and the setting up of Early Career Scientists (ECS) representatives.
The division representative's role is to engage in discussions that concern students and early career scientists.
A poster about the work done has been presented at this years EGU.
A new team of representatives have been set up during this years General Assembly, but more about the new team will published in an upcoming post.
---
Seismology Division ECS on social media pages
The Seismology Division (SM) has had its own official ECS representative since 2014. In an effort to reach out to early stage researchers, this blog has been set up in November 2013. Since then over 100 posts have been written featuring subjects such as earthquake lights, L'Aquila earthquake court case, writing scientific articles, publication reviewing process, seismic hum, among many others. Some of the posts are written by guest writers. Over the months the pages proved to be popular, with hundreds of views every week and an increased number of followers.
A Facebook page was set up in February 2014, and has since registered over 700 followers. Unlike the blog, Facebook content is more dynamic and rapid, making it an ideal platform to share immediate news, interesting websites, conferences, etc.
Analytics show that the social pages have hundreds of viewers/followers. In some cases the outreach of an
individual post has exceeded 1,000 people. The quality and content of the online pages is getting better
and better, and the audience is expected to soar in the coming months. Seismologists, especially early career ones, are invited to submit their own posts.
A visibility survey
In order to tailor the content on our social media output, an online survey was carried out with our readers to establish what are the main interests of our followers. Statics show interesting trends. This insight can help us improve the content on these pages.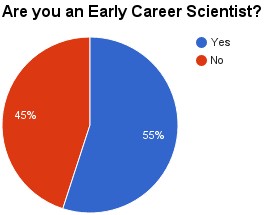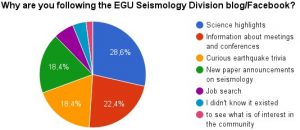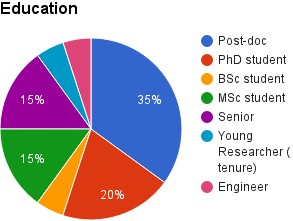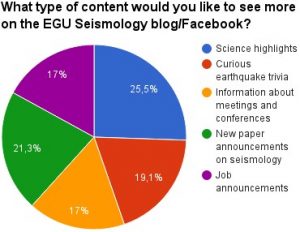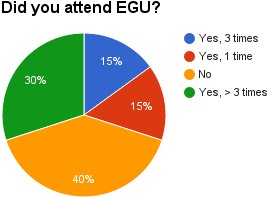 Impact of the ECS representatives
Apart from the outreach work, the ECS representative role is to engage in discussions that concern students and early career scientists. Several meetings between all the division representatives are held throughout the year to discuss ideas and Union-wide issues. One important impact ECS representatives have had
on EGU is the increased number of short courses and workshops run by ECS during the annual
General Assembly. Another important contribution of ECS representatives was redefining 'Young
Scientist' (YS) to 'Early Career Scientist', which avoids discrimination due to age. Another milestone is that the head ECS representative now has a non-voting seat on the EGU council. Recently it was ensure that the EGU website is gender neutral, with special attention to the wording of the website. Thanks to these structures the EGU is a bottom-up-organisation, in which its members are represented by their respective scientific divisions, committees and council. 
The full poster is available here: