Many young scientists fear the worst during their presentation showdown. A special session is being held to give young speakers of Oral or PICO presentation to have one more chance to practice their talk, at the EGU complex itself!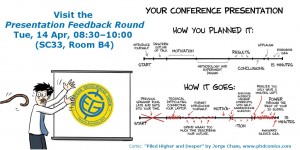 The session: 
Oral presentation feedback round
 is not only meant for people to practice their talk but also to gain feedback on how to improve their talk. The participating speakers will be given hints on how they can actively influence their audience, make presentation informative, effective and entertaining.
Sign up for a rehearsal in the presentation feedback round
In this course, several brave speakers – you – are invited to present us their upcoming EGU talk. this gives the opportunity to rehearse your talk in front of a wide multidisciplinary audience.
The aim of this EGU shortcourse is to offer some good practice on presenting science, as well as giving candidates a chance to rehearse their talk in front of a wider audience.
To participate fill out the form to sign up for a rehearsal:
https://docs.google.com/forms/d/1hGH8GvSUPnA0lj_ys_K9rE0SDqJGaLLlk88sAnFNL_I/viewform
Registration deadline: 25 March 2015
Everyone is invited to attend and learn how to improve your talk – even those not practicing their talk during this session.
Date: Tuesday, 14th April 2015
Time: 08:30–10:00
Room: B4
Website: http://meetingorganizer.copernicus.org/EGU2015/session/19205