A revised edition of the New Manual of Seismological Observatory Practice (NMSOP) has been compiled and is now available online. This manual is a project of the International Association of Seismology and Physics of the Earth's Interior (IASPEI). Over the years IASPEI introduced a manual to ensure that the data from the different seismology observatories around the world is of a set standard. The manual establishes protocols for all aspects of observatory operation which may effect the seismological data itself. In addition, the manual provides competent guidance for the different stages, from planning, bidding, procurement, site-selection, and installation of new seismic observatories and networks.
---
---
The manual, originally called Manual of Seismological Observatory Practice, was first produced in 1979 as Report SE-20 of the World Data Center A for Solid Earth Geophysics. It was reprinted in 1982, but has been long out of print. For many years the Manual has been effectively impossible to obtain. Later,  in 1996, the the Commission on Seismological Observation and Interpretation of IASPEI initiated a project to produce a new edition of the Manual of Seismological Observatory Practice. This project is under the overall guidance of Prof. Dr. Peter Bormann. The new edition has been published in 2002, and a slightly revised/corrected version made available on the internet as NMSOP-1 in 2009. The GFZ German Research Centre for Geosciences are now maintaining the NMSOP website in collaboration with the International Seismological Centre and the IASPEI.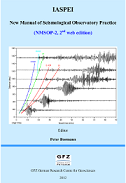 The new Manual of Seismological Observatory Practice (second Edition NMSOP-2, 2012) has 4 new and 13 substantially amended topical chapters, and many new or significantly revised/amended Information Sheets, Data Sheets,  Exercises, Tutorials, educational animations, programs and the largest ever published glossary of seismological and related earth scientific and engineering terms. NMSOP-2 is the largest seismology e-book currently available. It is accessible via the website http://nmsop.gfz-potsdam.de.