By Sam Zipper
---
Groundwater is often invisible because it's hidden below the ground. However, for those who know what to look for, you can see evidence for groundwater everywhere you look! A couple of years ago, I wrote about the great American groundwater road trip across the Ogallala Aquifer where we could see groundwater in the form of irrigation, streamflow, and town names. In honor of the United Nation's "Groundwater: Making the Invisible Visible" campaign, and the fact that riding bikes is much more fun than driving in cars, this year I wanted to showcase some visible evidence of groundwater around my home in Lawrence KS that I bike by on a ~20 mile loop north of town.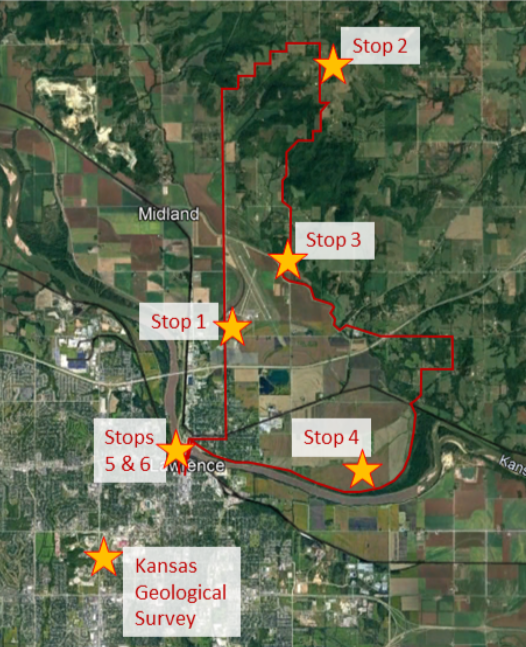 You can ride it either way, but I always like to go clockwise since there are lots of options to cut short or extend the end based on how much time you have and how your legs are feeling!
Stop 1: Long-Term Monitoring Well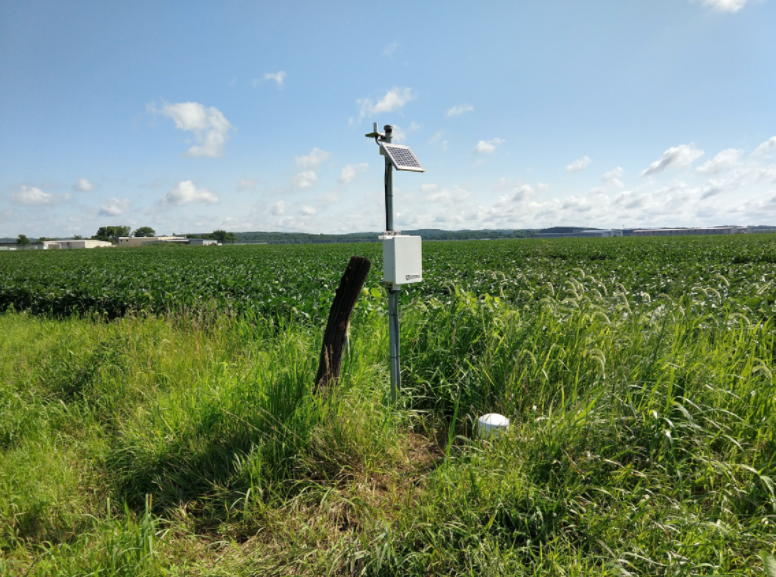 It doesn't look like much, but this little groundwater monitoring well (and a second well nearby that it replaced) have been collecting data for almost 70 years, providing a valuable long-term dataset to understand how groundwater has changed in the Kansas River. The well is part of the Kansas Geological Survey's Kansas River Index Well Network that provides continuous, telemetered monitoring of groundwater resources along the Kansas River corridor. You can view the current data here!
Stop 2: The Rural Water District Tower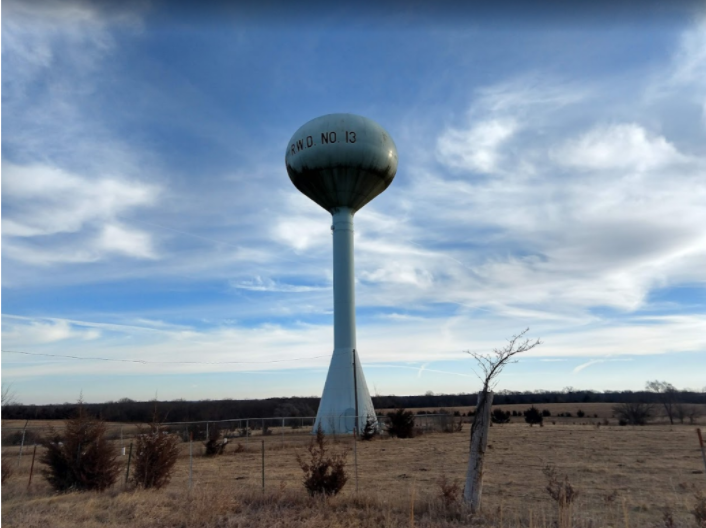 Rural Water District No. 13 provides water to over 1000 Kansans who live in rural parts of Jefferson, Douglas, and Leavenworth counties. The water comes from the Kansas River alluvial aquifer (more on that later). While I don't know much about this particular water tower, I am always happy to see it because it is at the top of the hill so it means that my legs are about to get a rest!
Stop 3: GEMS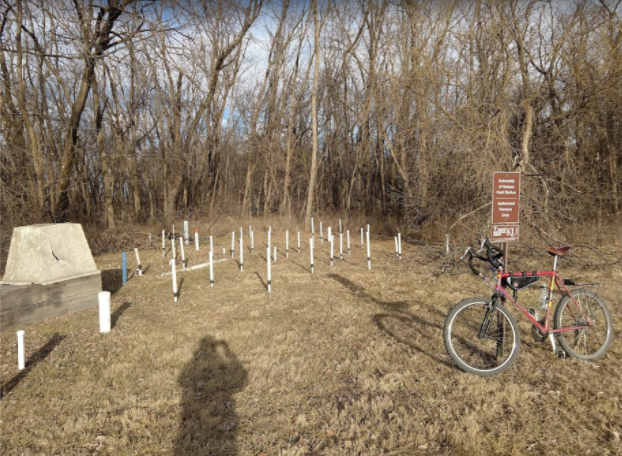 The Kansas Geological Survey's GEMS research wellfield is part of the Kansas University Field Station. It has been used for many projects over the years, particularly for developing and testing methods for aquifer characterization. Currently, GEMS is home to a telemetered groundwater monitoring well from the same index well network mentioned at Stop 1, so I can check groundwater levels from the comfort of my own home.
Stop 4: Irrigation
        While I couldn't get a picture of irrigation happening currently (since it is still winter here), as you roll back towards the river from the GEMs site you enter the fertile Kansas River floodplain, which includes many irrigated fields. The Kansas River alluvial aquifer is a major source of irrigation water in northeastern Kansas. That is why we need the index well monitoring program that we saw at stops 1 and 3 on our tour.
Stop 5: Lawrence's water supply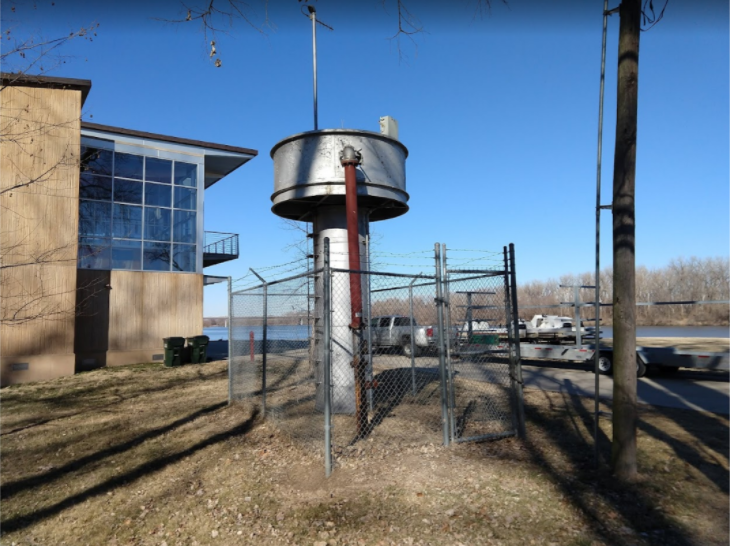 Folks who live in northern parts of the city of Lawrence, like me, get their water from a mixture of Kansas River water and the alluvial aquifer (the southern part of town gets their water from Clinton Lake reservoir). This big silver thumbtack-type thing is one of the wells drawing water from the alluvial aquifer. (Here's a fun scavenger hunt: the city's wellfield at Burcham Park includes six wells, can you find them all?) As a side note, the building behind this well is the Kansas University crew team's boathouse, which supports some of the streamflow monitoring on the Kansas River since they need that information for safe boating. Thanks, KU crew!
Stop 6: Cleaning up that water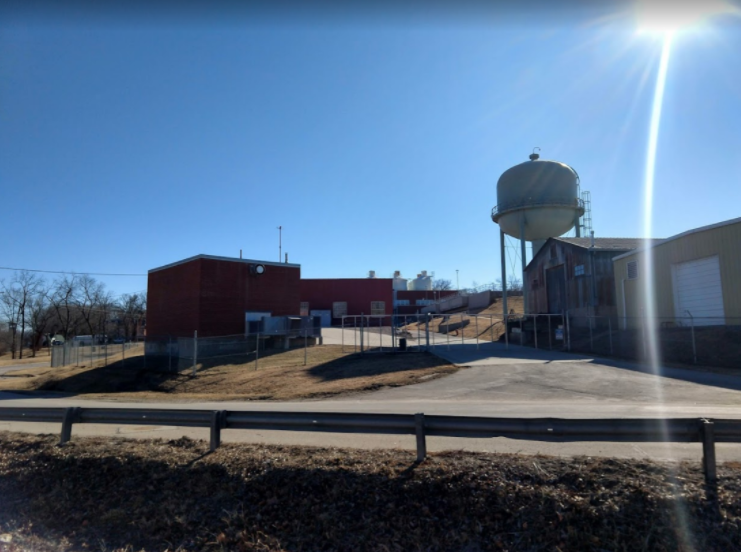 The water pumped from the wellfield and the river doesn't have far to go – the Kaw River Water Treatment Plant is right across the street and has been in operation for over 100 years. From the treatment plant, the water is distributed throughout the city, and after I see this spot, I know it's time for me to head home too.
What about you?
      I've got groundwater on the brain, and can't even take a relaxing bike ride without seeing evidence for groundwater all around town. What are some of your favorite groundwater features you bike, walk, ski, roll, or otherwise see on foot? Share in the comments or let's start a twitter thread!