Two words: French Quarter. OK, well beyond that quite a few things…
On Sunday the fun kicks off with the Hubbert Quorum (link) – a nice and informal meeting with lots of interaction.
On Monday is Advances in Hydrologic Science by Early Career Scientists: A Discussion of the Publishing Process (TH13A; link)
On Tuesday is Mars Underground: Subsurface Waters, Diagenesis, Hydrothermal/Metamorphic Processes, and Their Importance for Planetary Evolution (P24B; link).
On Tuesday night is a memorial jam for Mark Pagani with our very own Mark Cuthbert in the band: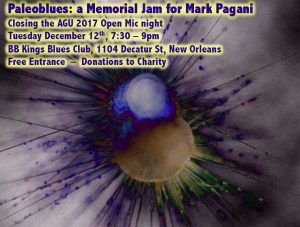 On Wednesday is Hydrology eLightning Session: Tropical Drought, Floodplains, and Ecological Sustainability (H34D; link) and
Fluid Migration Through Subduction Zones (T33F; link):
Thursday is busy:
The MacGyver Session: The Place for Novel, Exciting, Self-Made, Hacked, or Improved Sensors, Data Acquisition, and Data Transmission Solutions to Understand the Geosphere (H41J; link)
Hydrology, Society, and Environmental Change: Coupled Human-Water Dynamics Across Scales (H43R; link)
Novel Insights into Organic Matter Sources, Pathways, and Fate in Groundwater and Surface Waters (B41K; link)
On Friday is Balancing the Water Budget: A Physical Basis for Quantifying Water Fluxes Using Data and Models (H51N; link) and Regional Groundwater Quality, Availability, and Sustainability: Advances, Methods, and Approaches for a Complex, Changing World (H53O; link)
P.S. the AGU Ecohydrology technical committee compiled a list of relevant sessions (link).post: http://www.aguecohydrology.org/agu-sessions.html
P.P.S. If you can't make AGU, the virtual meeting AGU On-Demand live stream and later YouTube archiving of selected sessions is great (link), especially check out the Monday 10:20-12:20 Union session on "Creating Inclusive and Diverse Field and Lab Environments Within the Geosciences" (link).
P.P.P.S. FOMO is fear of missin out!
Listed compiled by Tom Gleeson from suggestions by Anne Jefferson, Grant Ferguson, Elco Luijendijk, Sam Zipper, Andy Baker, Mark Cuthbert.