Where's the beef? Or should I say where's the groundwater?
This graphic is from Owen Miles' watermurica blog

I am a hydrogeologist at University of Victoria, Canada who is interested in groundwater sustainability, mega-scale groundwater systems, groundwater recharge and discharge and fluid flow around geologic structures. My goal is fundamental and applied research and teaching to enable sustainable groundwater use.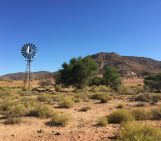 Crowdfunding Science: A personal journey toward a public campaign