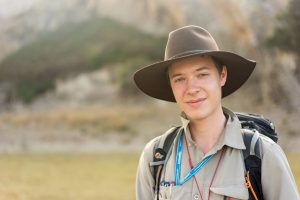 We've been introducing you to a couple of new faces on the GfGD blog, bringing fresh ideas and perspectives on topics relating to geoscience and sustainable development. We're delighted to have their input, and look forward to their posts. Today we interview Jesse Zondervan.
I'm Jesse Zondervan, a PhD student at Plymouth freshly arrived from Imperial College in London and I hope to use the science communication experience I have to contribute to GfGDs exciting vision.
What is your academic background?
I have just started a new PhD project at Plymouth University and graduated from Imperial College in London.
I'm looking at Quaternary river system development in the High Atlas of Morocco together with my supervisors in Plymouth with support from Ibn Zohr University (Agadir, Morocco).
I got inspired to do this project through the work I did for my MSci research project. Here I worked towards understanding how rivers erode and shape the landscape, which we surprisingly can't model very accurately yet. Since what goes on at the surface of our planet is largely dictated by forces directly or indirectly connected to rivers, it is important that we can understand fluvial processes quantitatively.
Connecting my research to development, I will mention that I recently went to Morocco to see the river systems I will be working on. I couldn't help but notice how people interact with geological hazards in some of the poorest areas in Morocco. I am sure that I will see more as I do field work in Morocco over the next three years.
What experiences do you have of science communication and why do you think it is important?
My first contact with science communication was before I started my degree. In fact it's the reason why I chose to do geology, so I'm aware of the impact science communication can make on young student's career choices.
Over the years of my degree in London and Australia I maintained an interest in communicating science myself. I worked with a science marketing team and joined the editorial board of a science communication blog aggregator, ScienceSeeker. I've also got a video on YouTube and I've been working on a podcast for a while.
I believe science communication is important for two main reasons: inspire and direct people in their research careers & help academics maintain a fresh perspective on the research they do by communicating in a non-academic way (as I reflected on in my post Why communicating science is beneficial to everyone's mental health).
How did you come across GfGD and why do you want to engage in our work?
Through my local university GfGD group I heard about Geology for Global Development. I did not get involved in their activities during my undergraduate, but as I started to think about my career after graduating, I became more interested in their work.
Over the years studying in London and Australia I accumulated quite a few friends who are involved in UN work or international development in general. Inspired by my friends, I started looking towards GfGD to guide me in making an impact while using my expertise and research work.
In 2015, the UN Millennium Development Goals and Sustainable Development tracks merged to form the 2030 Agenda launched in New York. I believe the UN 2030 agenda and its 17 Sustainable Development Goals present a change in the way policy recognizes the importance of working towards a sustainable future to achieve development goals, for all countries including the first world.
The new UN agenda creates an exciting new time in which geoscientists may be encouraged to work towards international development goals and receive more publicity and funding for research that contributes to understanding the way to sustainable development.
GfGD is one of the main pioneers in research on the intersection between geoscience and international development and promoting this new theme to the geoscience community.
The shifting of policy in development together with GfGD's vision mean GfGD is well positioned to direct future research, which is what excites me about GfGD.
What themes and topics are you interested in and may be likely to write about in the future?
Since I do research in surface processes and tectonics, I am most easily interested by Disaster Risk Reduction (DRR) and hydrogeology (groundwater) topics.
I would like to learn more about the institutions which are involved in geoscience for international development. I will be collecting regular round-ups of blogging and news items about geology for global development topics.
As I've got an interest in making videos and podcasts, I would also love to work towards producing these for GfGD. If you have experience with this and would like to get involved contact me!
Plans for the future?
I would like to see how I can direct my research towards sustainable development relevance or to contribute to future research projects. I could see myself working for a Geological Survey (e.g., BGS) or as an academic affiliate to institutes like the Sustainable Earth Institute at Plymouth or the Earth Institute in New York.
I look forward to getting more involved in GfGD. Thank you for following our blog and I hope to bring you more content soon!
Jesse Zondervan can be contacted via Twitter: @JesseZondervan or email: jesse.zondervan[at]plymouth.ac.uk
**This article expresses the personal opinions of the author. These opinions may not reflect an official policy position of Geology for Global Development. **