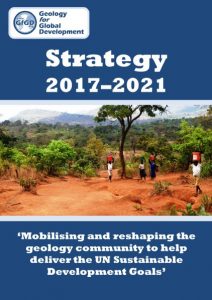 Today we publish the GfGD Strategy (2017-2021), outlining our vision and the key objectives that will shape our work over the next 5-years.
In 2015, the international community agreed the UN Sustainable Development Goals (SDGs). These goals aim to eradicate global poverty, promote sustainable consumption patterns, and facilitate sustained and inclusive economic growth, social development and environmental protection. Geology can play a vital role in addressing these challenges, but that requires enhanced knowledge, new skills, and strengthened links across charities, governmental bodies, and the academic and industrial geology community.
In this context, we seek to mobilise and equip the geology community to engage in a full, positive and effective manner, preventing and relieving poverty, and encouraging sustainable development.
We see a world where:
Every geologist is equipped with the skills and understanding required to make a positive contribution to sustainable development.
The geology community is actively engaged in the design, implementation, monitoring, and evaluation of international development activities.
Organisations, governments and individuals have equal access to, and an understanding of, the geological science required to ensure sustainable development.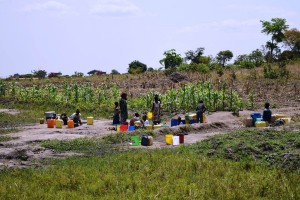 We have agreed four strategic objectives to help deliver this vision:
1. [INSPIRATION] Promote the value of geology in supporting sustainable development. Many people are unaware of the role geology can play in supporting sustainable development. We will work towards greater recognition for, and understanding of, the role of geology in tackling significant global challenges (e.g., water security, food security, resilience to natural hazards, natural resource management, urbanisation, and climate change).
2. [EDUCATION] Equip geologists to engage positively in sustainable development. The skills and knowledge required to make an effective and positive contribution to sustainable development are often missing from the traditional education and continued professional development of geologists. We will provide opportunities for geologists to develop these essential skills to best serve the communities that we engage with.
3. [ACTION] Enhance the application of geology to international development. We will make a high-quality contribution to practical development projects. We will develop and support poverty-fighting programmes in collaboration with other UK-based and international organisations. By the end of 2021 we envisage our work having helped to address six of the UN Sustainable Development Goals, across five different countries.
4. [LEADERSHIP] Exercise international leadership on matters relating to geology and sustainable development. We seek to be a recognised and trusted voice on 'geology and sustainable development', helping to reshape the global geology community to better serve society. We will grow in our international influence, and reputation for excellence in all we do.
Over the next five years we'll be working to implement this strategy, striving towards our vision, and supporting the UN Sustainable Development Goals. We believe that our work can help to reshape the geology community, building a sector equipped to serve communities around the world.
We'd love your support.
If our vision and strategy excites you, please join us.
Share: We would like the global geology community to be aware of our work. Please share this strategy and our work with your colleagues, students, and friends.
Donate: Whether you're an individual who can sign up to give £5/month, or you would like to find out more about corporate sponsorship opportunities, please do get in touch. Find out more on our website (www.gfgd.org/donate).
Join In: You can get involved in our work by going to University Group events, our conferences and workshops, or supporting our ongoing practical projects. Keep an eye on our social media for new opportunities in the coming months.
Together we can build a geology sector with sustainable development at its heart, equipped to make a positive difference and better serve society.
Resources: