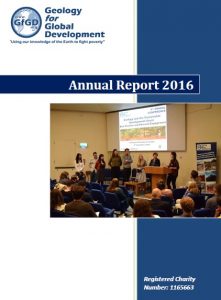 Today we publish our 2016 Annual Report, an important opportunity to share information about our charitable objectives and team, report on activities through 2016, and present an overview of our finances.
Geology for Global Development, established in 2011, is working to mobilise and equip the geology community to prevent and relieve poverty. In February 2016, our application to become a registered charity was accepted (Charity Number: 1165663).
Download our 2016 Annual Report (also available on our website).