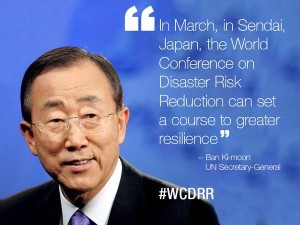 From 14-18th March, disaster professionals, politicians and other stakeholders will be gathering in Sendai (Japan) at the UN World Conference on Disaster Risk Reduction (WCDRR). The aim of the meeting will be to agree upon the final text to replace the Hyogo Framework for Action, the UN guidelines for action on disaster risk reduction and strengthening resilience.
Today's post collates some key background reading, commentary and relevant blogs…
3rd UN World Conference on Disaster Risk Reduction
Official conference site and a collation of blogs by multiple stakeholders.

Global Assessment Report (GAR)
Report: GAR on Disaster Risk Reduction 2015
PreventionWeb
News and Commentary: Serving the information needs of the DRR community.
Geology for Global Development
Commentary and relevant blogs on our site.
UK Collaborative on Development Sciences
News: Timeline of relevant work prior to HFA2 process.
Overseas Development Institute
Commentary, Blogs and Resources: Sendai 2015: A New Global Agreement on Disaster Risk Reduction.
Risk Management Solutions (RMS)
Blogs: Measuring Disaster Risk for Global UN Goals and The Journey to Sendai and Beyond.
Any other helpful/relevant links for news, commentary, blogs about the WCDRR? Add them to our comments section below.