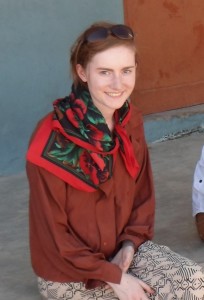 Celia Willoughby is an undergraduate geography student at University College London. In June 2014 she joined the GfGD team in Ladakh (India) to support the 'Sustainable Resource Development in the Himalayas' work – focusing on the hazards education course. Here she shares her reflections on the experience…
Ladakh is a beautiful and remote region in Jammu and Kashmir State, North India. Situated on a 3000m high plateau, the region spans the Himalayan and Karakoram mountain ranges and the Upper Indus Valley. Jammu and Kashmir borders Pakistan, Tibet and China. It is a melting pot of different cultures, languages and religions, which formerly made the region disputed territory. Ladakh is a popular tourist destination due to its scenery and cultural contrasts to the rest of India.
Rainfall in Ladakh is generally fairly sparse. The scarcity of precipitation means, however, that when heavy rainfall does occur, high amounts of surface runoff is generated. This is due to the mountain slopes being largely devoid of vegetation, and consisting of loose, dry material. In August 2010, intense rainfall triggered widespread flooding, debris flows and mudslides in Ladakh. As a result, over 250 people were reported dead, with infrastructure and homes damaged. Additionally, Ladakh's location in the Himalaya means that the region is tectonically active, which could potentially create large-scale earthquakes, triggering landslides.
In late June this year I participated in a students' education program in Ladakh, as part of the Geology for Global Development (GfGD) team, which aimed to spread information on natural hazards in the area. The education program was held in St Peter's school, Leh, and focused on hazard mitigation and prevention, as well as global warming and climate change. In total, the education program lasted two days, with around 100 students taking part (aged 14-16), who were selected from a number of schools in Ladakh.
The students' education program focused on a variety of group activities and lectures, using a range of multi-media. It was interesting to see so many students with differing backgrounds attend the event: Buddhists, Hindus, Muslims, Sikhs and Christians all interacted in the group activities. It was an insight into the complete diversity of the region.
Over the two days of the program, I was responsible for leading a group of students in various tasks. These ranged from simulating landslides by slowly tipping plastic trays of pebbles, and seeing whether added vegetation helped stabilize the material, to recreating slips made by earthquake faults. The latter was demonstrated by putting a rock onto a plank of wood, which was tied to an elastic band. By slowly pulling the elastic, the rock would remain immobile before suddenly sliding several centimeters on the plank. This simulated the build up and release of tension between earthquake faults. Students were then asked to change variables, such as rock size, to see how it changed the result.
On the afternoon of the first day, students took part in a poster designing competition, with the themes based on the students' education program. The majority of the posters were based on climate change, and were surprisingly somber – highlighting global warming by the melting of a polluted Earth. This activity showcased the incredible artistic talent of many students, and the creativity of their slogans to encourage afforestation and green energy. My personal favourite was a poster with the caption 'A tree that stays keeps floods away, your ambition should be no emissions'.
At the end of the two days there was a prize giving ceremony, where awards were given to the best poster makers, and speeches made by some students. Following this, pupils at St Peters school then presented a culture show, where different age groups came up onto an outside stage and presented traditional Ladakhi dances. The dance by the youngest students at St Peter's school, aged 4-6 years old, was a general crowd favourite. Garbed in either pink dresses or small suits they danced in mixed pairs to very catchy Indian pop music. It was a lovely finish to the two day program, and highlighted the appreciation the students felt towards those involved in the program.
Overall, my time in Ladakh was both an interesting and rewarding experience. The students were eager to learn, and were generally quite shy, despite their English being good (although a lesson on mudslides I taught with a peer saw the students becoming more rowdy). What I remember most about the experience was many students coming up to ask questions on landslides, following a lecture on unstable settlements on slopes. It struck me that many of their homes may well be on these slopes, which obviously started to worry the students.
It showed the importance to continuing to educate people on natural hazards in areas such as this, and how to protect themselves. Since taking part in the education program, Kashmir has been hit with one of its worst flooding events in 50 years, mainly affecting the city of Srinagar. This highlights how relevant GfGD's work is to the area, and how the work must go on.
Read more about this work on the Geological Society website.