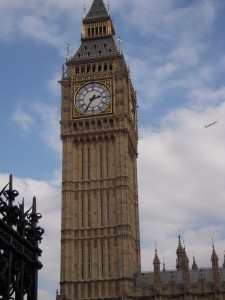 'Voice of the Future' (yes I agree, the young scientist community are and should be an important voice of today!) is a fantastic event which has taken place for the past few years. It gathers young scientists from a number of disciplines, including geology, and enables them to put questions to senior Government Ministers in the UK, civil servants and MPs. These normally include the Minister for Science and Universities (currently Rt Hon David Willetts), his counterpart in HM Opposition (currently Rt Hon Liam Byrne), the Science and Technology Select Committee and a senior Scientific Advisor to the Government (this year the Government's Chief Scientific Advisor, Sir Mark Walport). This opportunity for young scientists to pose questions and raise issues with these members of the political sphere is an invaluable opportunity to engage with the policy making process.
This year Geology for Global Development will be well-represented at the event, with Joel Gill (Founding Director) and Rosalie Tostevin (Himalayas Programme Officer) invited by the Geological Society of London to attend and (hopefully) keep attending politicians on their toes. This is a very special opportunity for us as an organisation. We have had an opportunity to submit a formal question via the Geological Society of London:
"In what ways does the UK Government utilise national scientific capabilities (and development budgets) to strengthen the scientific capacity of less economically developed countries?"
This question was written with the context of seeing first-hand the fantastic work of the Guatemalan national hazards agency, but also the struggles they face due to a lack of the funds and resources required to invest in the necessary scientific instruments and resources.
We are also keen to listen to our members and readers thoughts on what issues to raise. The questioning process does not allow us to ask multiple questions, however there may be the opportunity to raise things outside of the formal questioning session (an opportunity utilised by ourselves in 2012, resulting in a question being submitted to a select committee inquiry) and through 'follow-on' questions.
We'd therefore encourage our young geoscientist audience (18-35) to submit questions (as clear and concise as possible) that you would like to raise with those responsible for advising on, constructing and scrutinising UK science policy. Please leave your questions in the comments section below. As already noted, many of these may not be able to be asked, but the information will be invaluable in understanding the issues.