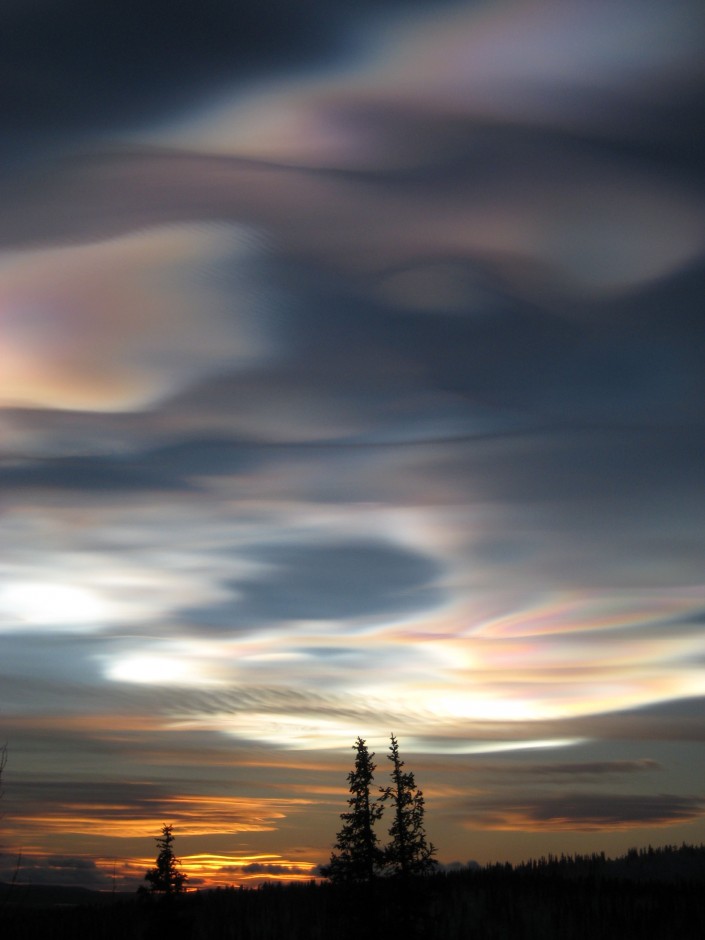 Mother of Pearl Cloud above Esrange, Sweden. Image by Peggy Achtert, distributed by EGU under a Creative Commons License.
This image shows a Polar Stratospheric Cloud (PSC) observed during a lidar campaign at Esrange, northern Sweden, on January 27th, 2011. The lidar measurement revealed that the PSC occurred between 29 and 31 km altitude at a temperature below -93°C. PSCs are most commonly observed between 18 and 26 km altitude during polar winter when ambient temperatures drop below -83°C. The name "Mother of Pearl Cloud" only refers to the visible kind of PSC that is made up of ice crystals. The recording of PSC observations started in 1893 when Henrik Mohn published his collected data of iridescent clouds over southern Sweden. It was him who called this phenomenon "Mother of Pearl Cloud" because of the cloud's brilliant iridescence.
Imaggeo is the online open access geosciences image repository of the European Geosciences Union. Every geoscientist who is an amateur photographer (but also other people) can submit their images to this repository. Being open access, it can be used by scientists for their presentations or publications as well as by the press. If you submit your images to imaggeo, you retain full rights of use, since they are licenced and distributed by EGU under a Creative Commons licence.