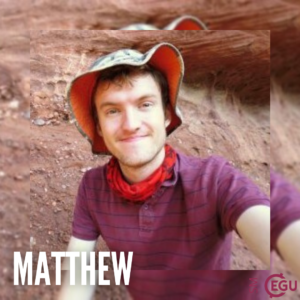 Hello everyone!
Hope you're doing well, and that those of you who managed to make it to Vienna have now recovered, and that normal researcher life has now resumed (and isn't too dull in comparison!) We hope you enjoyed all that the EGU GA had on offer, and that you were able to make it to some of the Seismology ECS events. I was very sad that I couldn't be in two places at once so ended up missing the EGU extravaganza, but fingers-crossed for next year!
For this "State of the ECS", the Seismo-team outline their thoughts on the EGU experience, an experience that went so well for some that they decided to join us! So hello again from the old, and welcome to the new!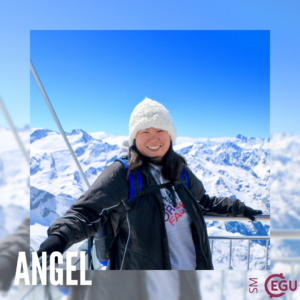 Hey everyone, Angel here reporting from the Swiss Alps (trying to avoid the heat in the city over the weekend)! Oh wow, it's been more than a month since EGU and we're halfway through the year 2022! This year's EGU was definitely a strange one – having less than half of the normal number of on-site participants and a whirlwind of short oral presentations. I do miss poster sessions where I can have both casual conversations and in-depth discussions alongside free drinks. Despite all that, It was really nice to finally reconnect with my fellow ECSs and meet some new friends in-person at the GA. I'm already missing every single one of you and the fun time we had together! And we are thrilled to see more people joining to the ECS team!
Speaking of fun activities, **SPOILER ALERT** the ECS team is going to host the 2nd Geo-Movie Cup on Twitter later this summer! We've created an amazing pool of geo-movies for the film-loving geo-community to vote for "the best of the worst" geo-movie of the year! So stay tuned!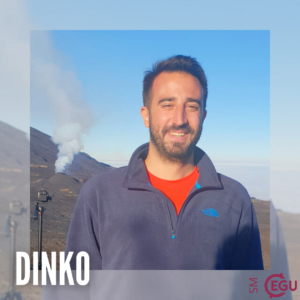 Hi all, Dinko here.
Since the last State of the ECS I have started my new PostDoc at the Department of Geophysics at the University of Zagreb and, more importantly, I became the new ECS representative for the Seismology Division. I hope I'll be able to follow Janneke's footsteps and I am certain that our small team will keep producing great content. We have planned plenty of interesting blogs, we'll be active on social media (keep your eyes open for our GeoMovie Cup between Jul 25 – Aug 5) and I hope we can make this page an information hub for young seismologists (and others) interested in news in seismology, career paths, job opportunities and plenty more.
Have a great summer y'all!
And now for the new team!! Introducing…
Hi All,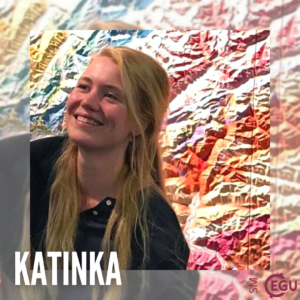 My name is Katinka, writing from Zürich here. I'm in the second year of my PhD and 2022 marks the year that we're finally allowed to go to conferences again! I am one of the latest additions to the seismology EGS team, and I joined after having seen the nice things the team organized during EGU22. I am doing my PhD at ETH Zürich, on monitoring microseismicity in enhanced geothermal systems using the ever-popular Distributed Acoustic Sensing (DAS). The blessing and the curse of DAS is the amount of data it acquires (beautiful, dense, data!), which requires novel ways of doing seismology. I did my Bachelor in Earth Science at Utrecht University and my MSc was the joint degree Applied Geophysics at TU Delft, ETH Zürich and RWTH Aachen. Besides seismology I am passionate about the outdoors: hiking, sailing, skitouring, you name it. I am very happy to join the SM ECS team and have yet to decide which tasks I will take over: I'll just start by learning!
Cheers!
Katinka
My name is Willia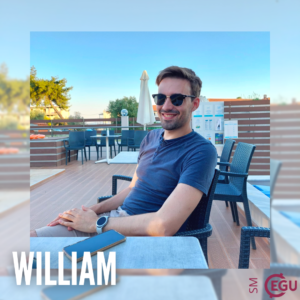 m, I'm a PhD student in my second year at the University of Southampton, studying seismic imaging of the New Zealand Subduction Zone. I love science in general but particularly physics and geophysics – I've always wanted to better understand the world we live in. I also enjoy music; I play guitar, keyboard, and a tiny bit of banjo. Some other hobbies include cooking, gym and computer gaming. Ultimately, my favourite pastime is meeting people and forming connections. This was one of the greatest parts about attending the EGU General Assembly this year. Jokes get made about networking being an excuse to have a drink at a conference, but I've met so many great people who I can't wait to work with in the future, mostly through ECS networking events.
Already, in the case of the EGU ECS Seismology team; hopefully I can help make an impact with the blogs. It's also wonderful to explore so many areas of seismology and geophysics that I wasn't aware of before EGU, there were some really interesting talks and I look forward to seeing how people progress with their research. Overall EGU reminded me of why I want to be a scientist, renewing my passion for science and seismology, and introducing me to the wider scientific community.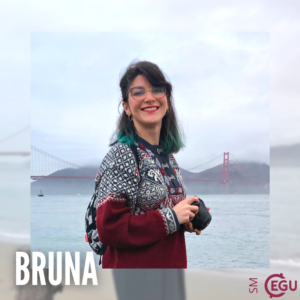 Olá! My name is Bruna and I just recently joined the team of the Seismology EGU Reps. I'm (basically) a 4th year PhD student in DIAS, meaning that for the last 2 years I could only participate in online conferences. I was lucky enough to have the chance to join a few in-person conferences before everything went ballistic, so I knew how different online conferences were and what I was missing. EGU22 was the first in-person conference I joined after the long pandemic pause, and it felt so good to interact with other researchers again! I got to share the joys and struggles with other fellow early career scientists, meet new people and get up to date with known colleagues.
I had my first oral presentation which was challenging and terrifying. But it was also satisfying to see the recognition of my work in the form of informal chats and questions, and realize how a presentation can open new opportunities. I had an amazing time meeting and getting together with the Reps, and I found my current contribution to the team, which is by administrating the Twitter account. All I can say is that doing a PhD is a wild ride, but in moments like this I realize why I chose and love science!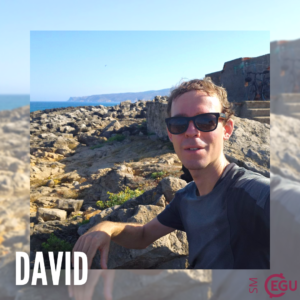 Hello everyone, my name is David and I am currently a postdoctoral researcher at the University of Lisbon. There I am investigating the crustal and upper mantle structure around hotspot regions in the Atlantic. I have been fascinated with the structure of the Atlantic for a few years now. In Bristol (UK), where I did my PhD, I used to investigate the structure at the birthplace (Mid-Atlantic Ridge) and destruction (Lesser Antilles Arc) of oceanic plates, so it is very exciting to look at areas along the way now. One of the best parts of being a scientist for me (apart from discovering cool new details) is meeting such a great variety of people everywhere and having a network of friends and colleagues all over the world.
And now, thanks to finally being able attend the in-person EGU conference again (how I missed the in-person experience!) and joining the ECS team there are even more connections. I am now looking forward to contributing to this great team.