Less than a month to go to until EGU.
Are you getting nervous about your blank poster draft?  Is there a glimmer in your eyes thinking about the upcoming vEGU and do you have the urgent need to share it with somebody? Are you worried about whether you should use a .pptx, .odt or .pdf for your presentation? Do feel overwhelmed about the numerous sessions, talks, posters and activities? Are you unsure how to attend this year's sessions? Do you need some ideas on how to most efficiently procrastinate working on your poster, presentation or just generally work?
Then you should join our Slack group!
The ECS SM Division Team and the rest of the Seismology community are all here for you, your questions, your problems, your presentation and even your boredom.
Bermuda Bräu (28.04.2021)

Here we are going to keep you updated on the yearly Seismology catch up in Bermuda Bräu. The caveat this year is that it will take place in Gather Town! Our very own digital Bermuda Bräu for your convenience. We hope many of you will join the party on 28.04.2021! Please bring your own drinks and food though.
Dinosaurs & Displacements
Oh yes, this is happening. Our very own D&D spin-off reimagined for vEGU. Please stay tuned for details and sign up (directly in the Slack channel) if you want to be one of the very first to take part in this evening long RPG adventure!
General
For general announcements, questions and group-wide conversations!
Google Calendar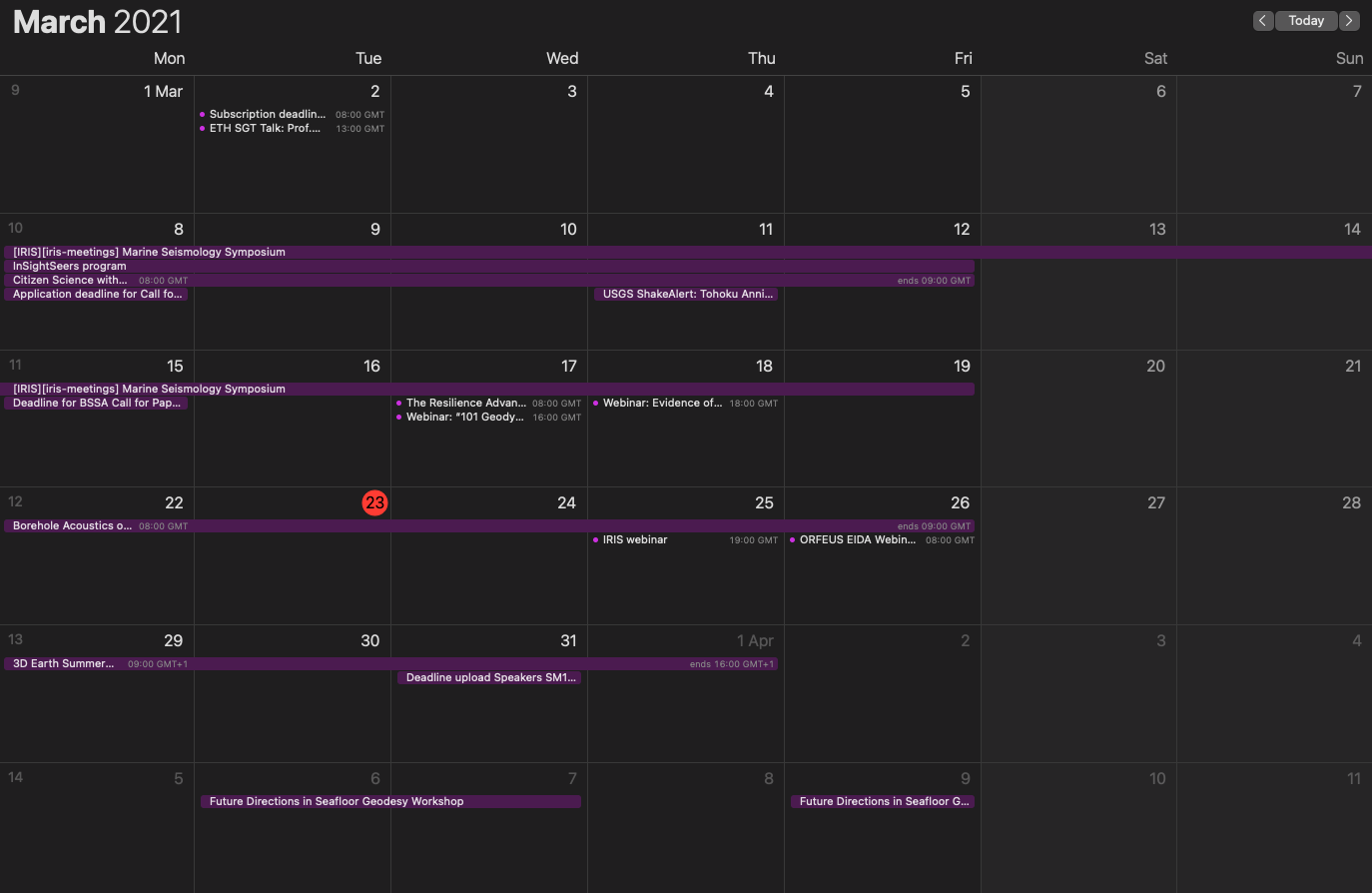 The ESC Team set up a Google calendar, filled with deadlines for abstract submissions and conferences, workshops, talks and presentations. It's sometimes overwhelming to keep up with all the dates, hence we put it all in one calendar. You can sign up in the slack channel (or directly contact the ECS) to be added to the calendar and also let us know if we missed an event everybody in the EGU Seismology community should know about!
Introductions
Drop some lines about yourself. Every year new PhDs and Postdocs are joining the EGU community, and since there is no physical conference this year you can introduce yourself here to the rest of us!
Questions
Don't know how to join vEGU? Is your online EGU account stuck or you cannot upload your presentation? Is sans-serif or serif better for presentations and are outlines still in vogue?
Come here if you have these or other (v)EGU related questions!
Random
Does somebody know where to find a really good Chinese Restaurant in Paris? Did you ever go scuba diving in the Red Sea? Does anybody else have problems running pythons matplotlib with the new MAC OS system? Does somebody want to adopt a kitten?
Yes, this random.
Science-Gone-Wrong Competition

As everybody experienced during the preparations for conferences and workshops a lot can go wrong. Murphy's Law, right? These failed science figures deserve to be acknowledged nevertheless. In our competition, we want to find the best of the failed science!
vEGU Shanty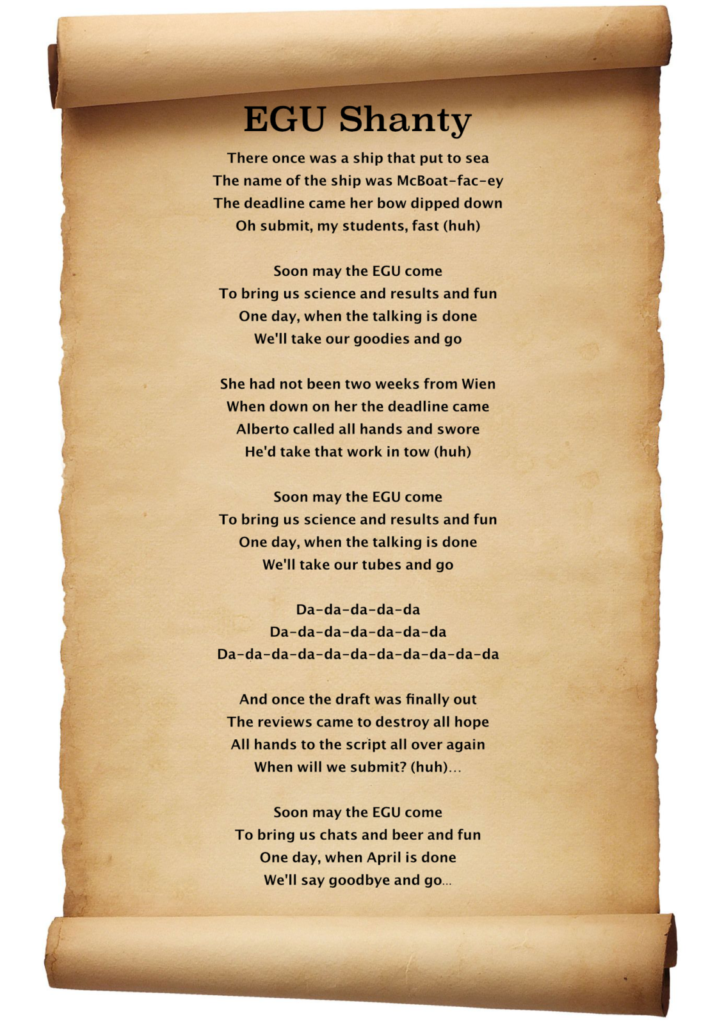 A major procrastination opportunity for everybody who likes to sing and play an instrument. We created a little shanty (based on the Wellerman) which we named "The EGU Shanty". Send us your singing or instrumental contributions (please without background music)! Join the singing!
If this all sounds like something you want to be part of, send an email to the ECS from your institutional email!
As for the Science-Gone-Wrong Competition and the vEGU Shanty, we will announce the winners and the final song clip during the Bermuda Bräu event.
We have a set of channels that hopefully will address all your needs and if we are missing something please contact one of the ECS members (e.g. "Name (ECS rep)").