Animations are a terrific way to engage students and to support public understanding of Earth Sciences. Yet, to make scientific research accessible, visual and fun is not easy. How do animations bring geophysics concepts to life? We asked the expert, Jenda Johnson (IRIS Education and Public Outreach)
When it comes to explaining Earth's processes, animations come to the rescue.
Tectonic plates drifting on the asthenosphere, volcanos spewing lava and rubbles from their crater, earthquakes fracturing the crust and propagating till the Earth's surface… Geoscience processes all deal with natural systems that change over time. Yet to understand dynamic subject matters is not easy-peasy, especially for learners, whether they be students or general public. To remedy this, graphic representation has increasingly been used as support [1], also thanks to the advancement in computer and software technology.
One of the reasons animations are now found so widely is the belief, shared among many, that animations can help learners understand complex ideas more easily. A recent study by Alessi and Trollip (2001)[2] has shown that mental representation is crucial for learners. Compared to static graphical representations, animations and simulations attract and capture attention; they facilitate science learning by reducing the level of abstraction of spatial and temporal information and the load of cognitive processing  [3], allowing the audience to build mental representation of unseen processes. Last but not least, their cosmetic appeal makes learners more motivated [4].
Animations are fully-fledged effective learning tools. But what is the educational strategy behind them? How can we create animations that are good for learning? Find out in our Interview with the Expert, Jenda Johnson.

Jenda Johnson has been working with the IRIS Education and Public
Outreach group since 2006. She produces geoscience animations,
videos, & interactive rollovers to depict geologic and seismologic
processes for teachers, students and general public. We asked her a
series of questions about her scientific, communication and graphics
expertise in making any geoscience project eye-catching, accurate
and clear for educational purposes.

What is your story, Jenda? Why Geology?
"The truth is, I didn't study Geology until I was 40 years old. I had had a career before that, but I had recently married a geologist and became surrounded by them. Being around geologists eventually prompted me to take a class of geology… mainly to understand the jargon of the people who came for dinner! Words like 'andecite' or 'fractionation' would no longer be a mistery to me. So I took a class, which then snowballed into getting a Bsc and a Msc in volcanic processes, and received a courtesy faculty position. But at that point my husband was transferred to Hawaii. Unfortunately, even though my master degree was in volcanic processes, there was no work for me there."
That's what drew you to science outreach?
"As a grad student, I was addicted to field mapping and research. I never envisioned a career into public outreach, honestly. But then I had to move away from research, where my heart was. I left the university and I joined the group that filmed lava flows in the Hawaii… And I got into filming for seven years! Starting thinking how to share that with the public and how much it can increase people's interest in science: that's what completely won my heart at that moment of my life."
What about IRIS?
"Eight years later, when my husband and I returned to Oregon, I was contracted for a temporary position by IRIS. When I inquired as to what my job was, I was asked to figure out what was needed to help teach the public about earthquakes and seismology. Even though I had a seismology class as undergraduate, I never understood it very well. I also realized that the teaching material offered on the internet was not easy for the public to understand. Many people don't see life in 3D: what they really need is a stepwise process of an animation."
 Despite the apparent need for science outreach, achievements are still not sufficiently recognised. In times of an increasingly competitive funding climate, high-quality publications remain the currency of science and time spent on outreach activities equals less time for research." says Dr Anne Osterrieder [6]
Scientists are now calling for increased public outreach and communication efforts. Why in your opinion?
"I do respect the outreach aspect of science at every stage of career. It is a tragedy that more students aren't engaged by science, because when taught well it can be a fascinating journey into learning about the entire universe. In middle- and high-school geoscience education, too many teachers don't fully understand geophysical processes, thus have a difficult time conveying an enthusiasm that hooks students to love science. Within academia, most focus only on his/her own research project, not taking time to share it with the public. Some component of outreach ought to be a part of every research projects: by describing your work in common language you can help the general public and the teachers understand your research, which results in interesting more people."
Thanks to the establishment of several outreach activities in the last decades, the public knowledge of geoscience topics has improved. But still, some issues remain objects of debate among the masses. Is there still a topic on which science communicators should insist?
"I think that when there is scientific controversy, the major issues include misconceptions, lack of understanding, and a lack of ability to search for correct information. It is true that despite the numerous outreach activities, some topic still need to be explained. If I had to choose, my personal pet would be 'predicting earthquakes', which has been a hot-button topic. There are "conspiracy theorists" out there who believe that the government is hiding data. What I have always liked about seismology is that on the IRIS website all data is available in real time to anyone, especially if you subscribe to the data-management-system groups. Data is not hidden."
Could you describe the process of creating an animation?
1) Research the topic. For complex topics I work with a Geophysicist to write out a story board that can be spoken aloud and that we can envision graphics for.
2) Collect photos and illustrations that others have made, and/or more commonly, make our own (use proper softwares).
3) Pull pieces together into an animation program.
4) Find science reviewers who are knowledgeable in the particular field of study to check for accuracy.
5) Have IRIS reviewers check to see that the animation works.
6) Get a narrator to read it.
Science disclosure is often the best compromise among scientific content, design and simplification of tough topics for the audience: what is your strategy? What is the aspect you focus more on when creating an animation?
"You need to find a common denominator that fills the gap between the science and the audience. In science animations, one of the mistakes often made is thinking that good art equals good science. Beautiful art may attract the general public but it doesn't mean it is good science (but maybe that's my excuse for not having artistic ability). Sometimes graphic artists are hired with no science background. They make very realistic pretty images but geophysical processes often can't be shown to scale, because they are too huge or too small. So, I would say animation graphics should be designed with as little detail as possible to reduce information processing demands and let audience focus on the most important scientific aspects of the process."
"People have fear of science: they have the fear they are not smart enough. And you want the audience to feel smart"
What are your key-points for an effective communication to the public?
"Know your audience. Try to address their level of knowledge: people need to be able to follow your presentation, what you are saying, and at the same time understand your slides. This can often be mentally challenging. Don't underestimate that. Adjust language and graphic presentation accordingly. People have fear of science: they have the fear they are not smart enough. And you want the audience to feel smart."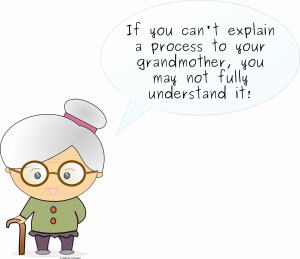 What is your suggestion for early career scientists to assertively communicate their science?
"I remember as I was working on my master thesis, I enjoyed speaking with my peers. Accumulating and using a vast new scientific vocabulary can make you feel very powerful. But here I might caution you: be careful, adjust your speech depending upon who you are speaking or writing to. Keep in mind  that the words you chose can exclude your audience too. "If you can't explain a process to your grandmother, you may not fully understand it" – that's my motto. Do not try to impress your audience with all the fancy new words you have accumulated during your studies such that you use them to the exclusion of others following what you say."
If you were to name a person who inspired you during your career, who would (s)he be?
"During this career (one of many!) in seismology outreach, I would definitely name Dr. Robert Butler. I began filming his workshops and now we work side-by-side on our trickiest animations. Robert had spent thirty years teaching at University of Arizona, he was made AGU fellow for his paleomagnetism research. He could have easily continued on that route. But quit it all to move to Portland and dedicated the rest of his career to teaching middle and high school science teachers about plate tectonics and earthquakes. He has received the highest marks in his workshop assessments, winning him a National Geoscience Teachers Award (NAGT). The way he uses his knowledge to teach teachers its really impressive and he taught me a lot: it is not 'dumbing it down', it is 'clarifying it for the grandmothers!"
This post was written by Marina Corradini, with revisions from Walid Ben Mansour and Maria Tsekhmistrenko

Walid Ben Mansour is a post-doctoral research fellow at Macquarie University. He works on multi-observable probabilistic tomography for different targets (mining, seismic hazard). You can reach him at walid.benmansour[at]mq.edu.au
Maria Tsekhmistrenko is a PhD student at the University of Oxford. She works on the velocity structures beneath the La Reunion Island from the surface to the core mantle boundary. You can reach her at mariat[at]earth.ox.ac.uk
_________________________________________________________________________________
Jenda Johnson creates animations for IRIS to help Earth-science teachers understand complex seismologic processes, available here: www.iris.edu/earthquake. Member of the Board of Advisors at Oregon State University's College of Earth Ocean and Atmospheric Sciences.  Among other collaborations: UNAVCO,  U.S. Geological Survey, Teachers on the Leading Edge (TOTLE), Cascadia EarthScope Earthquake and Tsunami Education Program (CEETEP), Hawai`i Volcanoes National Park, Haleakala National Park, EarthScope/USArray, High Lava Plains Seismic Array.
References:
Lowe, R.K. (2004). Animation and learning: Value for money? In R. Atkinson, C. McBeath, D. Jonas-Dwyer & R. Phillips (Eds), Beyond the comfort zone: Proceedings of the 21st ASCILITE Conference (pp. 558-561). Perth, 5-8 December.

Alessi, S.M. & Trollip, S.P. (2001).Multimedia for learning: Methods and development.Boston, MA; Allynand Bacon.

Cook, M. P. (2006), Visual representations in science education: The influence of prior knowledge and cognitive load theory on instructional design principles. Sci. Ed., 90: 1073-1091. doi:1002/sce.20164

Wouters, P., Paas, F. & van Merriënboer, J.J.G. Instr Sci (2010) 38: 89. https://doi.org/10.1007/s11251-008-9079-0