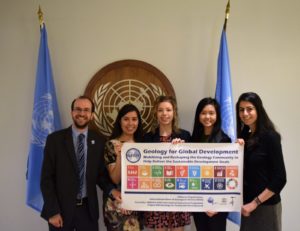 In May 2019, we led an international delegation of early-career Earth scientists to the UN Forum on Science, Technology, and Innovation for the Sustainable Development Goals.

Download our full event report here.
The annual UN Forum on Science, Technology and Innovation (STI) aims to facilitate interactions, networks and partnerships to identify and examine needs and gaps in technologies, scientific cooperation, innovation and capacity-building to support the SDGs. The forum is attended by member states (official national representatives), civil society, the private sector, the scientific community, and United Nations entities (e.g., UNESCO, UN Water).
The 2019 Forum theme was 'science, technology and innovation for ensuring inclusiveness and equality', exploring SDGs 4 (quality education), 8 (decent work and economic growth), 10 (reduced inequalities), 13 (tackling climate change), and 16 (peace, justice and strong institutions).
Through engaging, we hoped to increase the visibility of the Earth science community in sustainable development discussions, championing the importance of understanding the natural environment, enhancing public understanding of Earth systems and resources, and building strong professional communities of Earth and environmental scientists. We did this by coordinating and leading an international delegation of early-career Earth scientists, working in diverse contexts (e.g., Central Asia and Latin America). Together we helped to draft formal interventions delivered during plenary sessions, and organised a side event on Earth and Environmental Science Education for Sustainable Development.

We are grateful to the International Union of Geological Sciences and IUGS/UNESCO International Geoscience Programme Project 685 for their support.