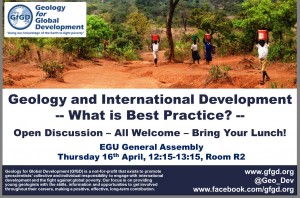 Yesterday, the European Geosciences Union (EGU) General Assembly in Vienna played host to an informal discussion on 'best practice' when working in the global South. Organised by Geology for Global Development, the event gave people an opportunity to reflect on the skills and practices that could be integrated into our geoscience work to promote sustainability and support development work.
Here are some of the themes and ideas… we'll be publishing a full report on our website in due course.
Prepare Effectively Before Travelling
– Don't go unless you have expertise to provide that is not available locally or you will build local capacity.
– Listen to stakeholders early enough (before you write the plan and budget), build agreement on realistic goals and outputs.
– Invest time in relationships.
– Research, so that you understand culture and pre-existing social structures to reach the target audience.
– Consider how to move from humanitarian response to sustainable development throughout the project.
– People orientated goal setting – put compassion at the heart of what you do!
Engage all Stakeholders
– Take the time needed to engage the full spectrum of stakeholders openly (e.g., survey, universities, industry and local community representatives).
– Link with local universities and integrate them into your budget. Couple teaching with the development project.
– At all times – RESPECT, for people, for their knowledge about the environment. Just because information is not in the published literature does not mean the knowledge doesn't exist in other ways and forms.
– Avoid 'rich-visitor treatment' and try to meet real local people and stakeholders.
End Well
– Share your results locally and translate them.
– Communicate on a level that the audience understands.
– Produce clear, appropriate maps or figures – and share them!!
– Ensure the results and implications of the work are clearly addressed.
Thanks to all those who participated in the event, and shared their perspectives.