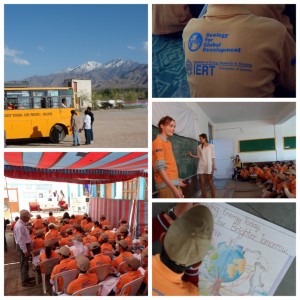 Over the past few days some of the GfGD team have been taking part in a geology education project in Leh (Ladakh, India). The project gathered students from a number of schools in the region – with participants from a wide variety of backgrounds. The programme introduced students to topics such as natural resources, climate change, energy efficiency, disaster risk reduction, landslides and seismology. Those leading the modules came from the University of Jammu, eni, BGS School Seismology Programme and GfGD.
GfGD's core teaching (alongside the BGS School Seismology Programme) was on natural hazards and disaster risk reduction – with GfGD focusing on landslides and the Paul Denton (BGS) on seismology/earthquakes. The course teaching began with a lecture by Joel Gill, introducing the three components that control the occurrence of a disaster (i) hazard, (ii) exposure and (iii) vulnerability. Following this introduction we were able to examine whether a disaster could be prevented (or its impacts reduced) through taking steps to minimise each of the three components.
From disaster risk reduction, we moved to the second half of the lecture, examining landslides – looking at slope stability and the forces acting within a slope. The idea of driving vs. resisting forces was examined, with students being asked to consider how factors such as slope angle, water, vegetation, material type/properties, seismic shaking and construction processes would impact these forces, and therefore make a landslide more/less likely. Students were briefly introduced to resolving gravitational forces into their resistive and driving components, and to the concept of effective stress and pore water pressure.
To reinforce the material on landslide mechanics and slope stability, Rosalie Tostevin then led the students in a practical exercise where students were examining the slope angle that failure occurs for a variety of materials. These were then contrasted to the observed failure angles for wet material, a shaking slope and material mixed with vegetation.  Although the results were not always as expected, the experiment helped students consider the idea of building a model, assumptions within that model, and limitations affecting results.
Our session concluded with Katharine Sherratt and Celia Willoughby an examination of landslide impacts on a local, regional and state level – as well as helping students consider the immense speed at which a mudslide may move. We also discussed the importance of taking action before an event – acknowledging that while there may be things we can do to stay safe during a landslide or things to improve the response after a landslide, it is much better to prevent a disaster in the first place. This can be done by tackling the hazard, exposure or vulnerability.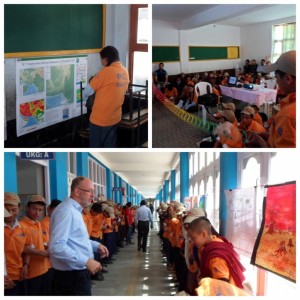 This section on landslides was excellently followed by Paul Denton's (BGS School Seismology Programme) section on earthquakes and seismology. Paul introduced students to the concepts of elastic rebound, P and S Waves, locating an earthquake epicentre and earthquake mitigation using some brilliant interactive demonstrations and activities. Students lined up to form 'people-particles' – demonstrating the movement of P Waves and S Waves, both through solids and liquids. Students also helped develop mitigation/awareness slogans – with one of the clever winners being 'Don't use the staircase, or you will be a death case.'
The overall programme was a great success, with some clear take-home messages and genuine student (and teacher) engagement. Students were presented with booklets with the core course material to revise and revisit in the future. Further copies of these were left with school teachers for their libraries. Two core messages that came from the overall programme included…
1) Personal Responsibility: In each session students were encouraged to take personal responsibility for the issues being discussed. There is much that they can do to use precious resources (energy, water) more carefully. There are also steps that students can take to reduce their individual and household vulnerability to hazards such as landslides and earthquakes. Students demonstrated over the programme that they are keen to take these small steps, and also to advocate the responsibility of others to act (e.g., writing to their school headteacher to request use of less plastics).
2) Act as Ambassadors: Each student was given a bright orange T-shirt (paid for by an external sponsor) with the logos of many participating organisations. The motivation behind giving them this t-shirt is to generate curiosity in their schools, homes and communities. People would ask them 'where have you been' and 'who are these groups' – giving students an opportunity to share the key messages they learnt about energy efficiency, climate change, reducing vulnerability and understanding hazard processes. Students were encouraged to act as flames or ambassadors, taking these messages out to a much wider audience.