Today I had the great pleasure of chatting with Sam Illingworth, the representative of Young Scientists at EGU. I mostly wanted to learn more about his role as EGU young scientist representative, so the format of the interview has changed a little,we also touch on his research interests and our shared passion for science communication.
Vital Statistics
You are: Sam Illingworth
You work at: Manchester Metropolitan University
Your role is: Lecturer in Science Communication & EGU Young Scientist (YS) Representative.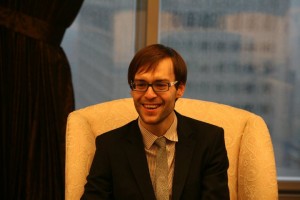 Q1) What are you currently working on?
Developing the YS network. The work is building on that of Jennifer Holden (@GeogJen). The EGU has a fantastic scheme of fellowships to tap into people's area of expertise. Jenifer was a Fellow at the EGU a couple of years ago and her work focused on developing networks. As a part of that, she conceived the idea of a YS network, which became formalised in 2013.
My role as YS representative is to make sure every Division has a young scientist representative by 2015. We are nearly there, most divisions do! I also want to encourage better communication between the EGU and young scientist and make it know that the Council does listen to all feedback given.
Q2) What has a typical day been like for you whilst at the EGU 2014 Assembly?
A lot of my time is taken up going to meetings that are related to the assembly and EGU as a whole.  I've also delivered short courses, specifically in school outreach. I've spent some time popping in and out of the YS Lounge (red floor) to ensure young scientists at the conference can put a face to their representative. This means I can build the network and meet as many young scientists as possible. The YS Lounge is an initiative that has been strongly driven through and supported by both the EGU and Copernicus (the meeting organisers).
I've also presented my own scientific research, which uses UAVs (unmanned aerial vehicles) to measure greenhouse gases and have convened sessions within my scientific discipline.
Q3) What has been the highlight of your career so far? And as an early stage researcher where do you see yourself in a few years time?
The highlight of my career so far has been being awarded my new post, a tenureship in science communication. It proved that I was doing the right thing in dedicating so much of my free time to outreach and engagement.
In five years time I'd like to be progressing towards the idea of establishing science communication as a respected and taught discipline, both in its own right, as well as a  compulsory module within every science course.
In terms of the YS network, I'd like to see young scientist convene more sessions and take a more active role in the EGU as a body, as well as the Assembly.
Q4) To what locations has your research/work taken you and why?
I spent two years in Japan investigating the relationships between art and science, specifically how one can use theatrical skills to improve effective science communication skills.  Whilst there I was invited to lecture at Tsinghua University in Beijing.
As part of my research I have travelled to the Arctic Circle, where I flew on research aircraft to make measurements of methane in the atmosphere. Conferences have also taken me all over the workd, including San Fracisco, and Vienna, of course.
Q5) Do you have one piece of advice for anyone wanting to have a career similar to yours?
Identify what you are good at and really pursue that direction as much as you can. I'm an ok scientist, but a very good communicator, and chose to pursue that. Identify the area that you excel at and push your career in that direction.
Q7) What is your highlight of the EGU 2014 Assembly?
100% meeting the young scientist of EGU that I represent. Having the opportunity to meet incredibly inspirational young scientist and knowing, as a result, that European science is in very good hands.
Q8) If you could invent an element, what would it be called and what would it do?
Timetanium – you could use it to momentarily pause time to enable you to sleep.
Sam Illingworth is a lecturer in science communication at Manchester Metropolitan University (MMU). He completed his PhD in atmospheric physics in 2010 at the University of Leicester. He then spent 2 years in Japan as a Daiwa-Anglo Japanese Foundation scholar, where he investigated how theatrical technique can be used to develop effective science communication skills. He returned to the UK in 2012, and spent 18 months at the University of Manchester, where as well as measuring methane and other greenhouse gases from airborne platforms, he spent a large amount of time developing outreach activities throughout the Greater Manchester area, before taking up his current post at MMU. When not doing research Sam enjoys writing plays and short stories, a collection of which can be found at Fables for a Damaged World.