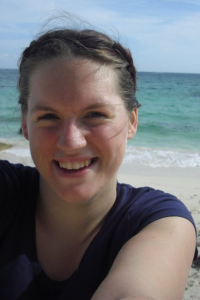 KT Cooper is a PhD student in the School of Earth Sciences at the University of Bristol. A carbonate geochemist by training, she is currently on a three-month secondment to Houston, Texas, USA working with Exxon Mobil.

Recently, I was lucky enough to visit a fellow Bristol Earth Sciences PhD student in Vancouver, Washington for a weekend of volcano-spotting (and hiking) in the Cascades. As a non-volcanologist, I was just excited to get some fresh air, good weather and great company for a few days and didn't really give a thought to the prospect of seeing volcanoes. All I can say, in hindsight, is that I was foolish to think of them as merely a backdrop for our weekend. They were totally breath-taking, awe-inspiring and now I can really understand why so many of my peers are fascinated with them.
The Cascade Range is one of the major mountain ranges in North America and spans right from British Columbia in Canada down to northern California. It is home to one of the most widely known volcanoes in the world, Mount St. Helens, which famously erupted in 1980, blowing out half of its crater.
The volcanism in this area is generated from the subduction of the Juan de Fuca plate, located off the west coast of North America, underneath the North American plate. This subduction zone is often the site of vast volcanic and seismic (earthquakes) activity and the Juan de Fuca plate makes up part of the Ring of Fire, which is where the majority of the world's active volcanoes are located.
During my trip we visited two amazing locations within the Cascades: Mount Hood in Portland and Mount Rainier in Washington. Both of these are stratovolcanoes which means that they have a "classic" cone shape. At Mount Hood we drove to the famous Timberline Lodge (we found out when we left that the facade of the Lodge was used as the outside of the hotel in the Shining) to be greeted by the sight of snowboarders peeling off layers of clothing as they descended from the snow covered top down to the sunny lodge (the elevation here is still 6,000 ft above sea level).
We visited Mount Rainier the next day and decided that we would trek up the volcano as far as our legs, and lungs, would take us. As a prolific sufferer of vertigo, this was quite a challenge; even driving up the winding road to the Lodge in Paradise (which lived up to its name) was enough to make me feel a little uneasy!
Spurred on by the incredible sight of the volcano and its glacier, we managed to reach Panorama Point at 6,800 ft which was the highest point you could hike to without hardcore walking gear.
Descending the mountain took us through wonderful meadows, melting ice sheets draining into babbling brooks, and stunning waterfalls. To top it off I even saw a marmot! It may not have caused me to swap my wonderful carbonates for volcanoes but it was definitely an incredible experience.