Award lectures
The Geomorphology Division awards the Ralph Alger Bagnold medal to individuals in recognition of their outstanding scientific contribution to the study of geomorphology, and also awards an Outstanding Young Scientists award to recognise remarkable scientific achievements in the field of geomorphology by an early-career scientist.
This year's winners are Niels Hovius, recipient of the Ralph Alger Bagnold medal for his outstanding research in the field of Earth surface science, as well as for being a key figure in European geomorphology and a versatile interdisciplinary scientist and Pierre Valla, recipient of the Outstanding Young Scientists award.
Niels Hovius is giving the Ralph Alger Bagnold Medal Lecture on "Earth surface dynamics – dispatches from the flats" on Thursday 21 April in Room K1.
Pierre Valla is giving the Penck Lecture on "Progressive impact of glaciation on mountain erosion and topography: insights from in-situ thermochronometry" on Wednesday 20 April in Room L4/5.
Workshops and Short Courses
This year we have a packed programme of events, primarily aimed at early career scientists, but not-so-early career scientists might learn a thing or two too! Below is a list of events organised or co-organised by the Geomorphology division but there are many more excellent courses on offer which may be of interest to geomorphologists. A full list is available here.
Mon 18 Apr – SC36: How to navigate EGU: tips & tricks (12:15–13:15 in Room 2.85)
Tue 19 Apr – SC11/GM13.2: Supervising and tutoring students with the GM division officers (17:30–19:00 in Room 2.85)
Wed 20 Apr – GM13.1/SC10/SSS12.25: Digital Terrain Analysis of Anthropogenic Landscapes with Paolo Tarolli et al (Wed 20 Apr, 13:30–15:00 in Room L4/5)
Wed 20 Apr – SC12/GM13.3: 'Meet the Master' with Andreas Lang (17:30–19:00 in Room 2.85)
Thu 21 Apr – SC50: Using Bayesian modelling for integrating geochronologies with Richard Chiverrell (17:30–19:00 in Room 0.31)
Fri 22 Apr – SC4/GM13.4/TS9.2: Publishing in Solid Earth and Earth Surface Dynamics: meet the editors with Prof Fabrizio Storti and Prof Tom Coulthard (10:30–12:00 in Room 2.61)
Social events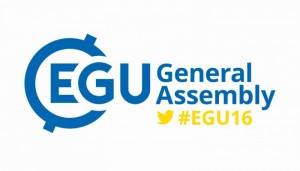 The Opening Reception is being held between 18.30-21.00 on Sunday 17 April in Foyer E. There will be an area specifically designated for Early Career Scientists which will be clearly labelled at the event, and provide an opportunity to meet other young scientists attending the meeting.
There will also be an Early Career Scientist Lounge available on the Red Level of the conference centre to take a break, grab a free coffee or soft drink and catch up with colleagues. Emma Shuttleworth, the GM Early Career Representative, will be in the lounge most days. Keep an eye on Twitter or Facebook to find out when she's about.
For the third year running there will be a social evening for Young Geomorphologists (and those that still feel young!) in Mozart's on Wed 20th April at 19.30, organised by the "Junge Geomorphologen" from Germany and the Postgraduate Forum of the British Society for Geomorphology. There is no age limit, everyone is welcome! See you there for stimulating geomorphological discussion over a reasonably priced beer.
GM Division Meeting 2016
The EGU Division on Geomorphology organises a Division Meeting each year at the EGU General Assembly. During this event, the division president reports on division activities (awards and medals, publications, current and next year General Assemblies), Union-wide news, presents the current division officers and runs the election of new ones.
This year's meeting will be held on Thursday 21 April, 12:15–13:15, in Room L4/5. All are welcome to attend and provide feedback on the meeting and the division.
The minutes and slides from the 2015 GM Division Meeting are available in the report section.