The terrestial water cycle leaves traces in the Earth's gravity field
The current onset of el Nino is raising hope in California to replenish some of its multiyear water deficit. Due to the warm pool of water on the East side of the Pacific, more rain, and consequently also larger potential for flooding is expected. At the other side of the Pacific, the water is colder than usual leading to Australia bracing itself for a period of drought.
Besides sea surface height and temperature changes, these precipitation patterns move water masses which are even detectable in the time varying gravity field of the Earth. It would therefore make a lot of sense to integrate gravity field data within drought and flood monitoring schemes. The German-American Gravity Recovery and Climate Experiment (GRACE) already supplies this information, and has proven to be very valuable for climate studies. These range from studies of the mass variations of the world's major ice sheets and glaciers and their impact on sea level, to studies focusing on anthropogenic uses of groundwater resources.
Near-real time availability of Gravity field data from GRACE opens up possibilities for flooding and drought management
GRACE is therefore very interesting for operational flooding and drought management,  however, the time it takes from the raw in-orbit GRACE measurements to become a widely usable product takes roughly 60 days. In order to embed this innovative gravity field data into operational systems this time needs to be reduced. In light of this, the EGSIEM consortium (European Gravity Service for Improved Emergency Management) are striving to provide a solution to the lack of prompt, uniform environmental mass redistribution data from the GRACE mission.
EGSIEM is a three year research and innovations project funded by the European Union under their Horizon 2020 Programme. It brings together around 20 scientists from geodesy and hydrology backgrounds around Europe who are taking a holistic approach to Earth Observation (EO) Data with the end goal of providing faster, standardized gravity field data. Such products may facilitate not only a broad scientific community, but are also of benefit for the general public who live in areas under threat of large-scale flooding and drought events. Changes in continental water storage conditions form (arguably) the most significant portion of mass redistribution data which, depending on local conditions, may lead to severe flooding and drought events. EGSIEM aims to demonstrate that observations of water and ice mass redistribution derived from satellite gravity data can provide critical and complementary information to more traditional EO products.
EGSIEM eases the acquaintance with gravity field data
"By offering improved and timely gravity fields, we want to encourage and open up novel approaches to flood and drought monitoring and forecasting" says Adrian Jäggi project coordinator of EGSIEM. The project's main aims are: To provide a scientific combination service which will, using the knowledge of the entire European GRACE community, deliver a robust standardization of gravity-derived products. Reducing the current delays in provision of observations, such a near real-time service aims to reduce the average time of gravity field products from the current 60 days to five, and for initial Level 1 instrument data from 11 days to one. Also, by developing gravity based indicators for extreme hydrological events the EGSIEM team aim to demonstrate their value to flood and drought forecasting and monitoring services in a hydrological early warning service.
The EGSIEM team proactively maintain their impressive looking website (www.egsiem.eu), where scientists working in the field of gravity recovery and hydrology regularly post blog entries of their findings. According to Keith Cann-Guthauser who is the EGSIEM project administrator: "a key strength of EGSIEM is our engagement and effort to disseminate our findings to a larger audience." The website further offers a direct visualization of satellite gravity field data with the EGSIEM plotter, and a possibility to sign up for a quarterly newsletter.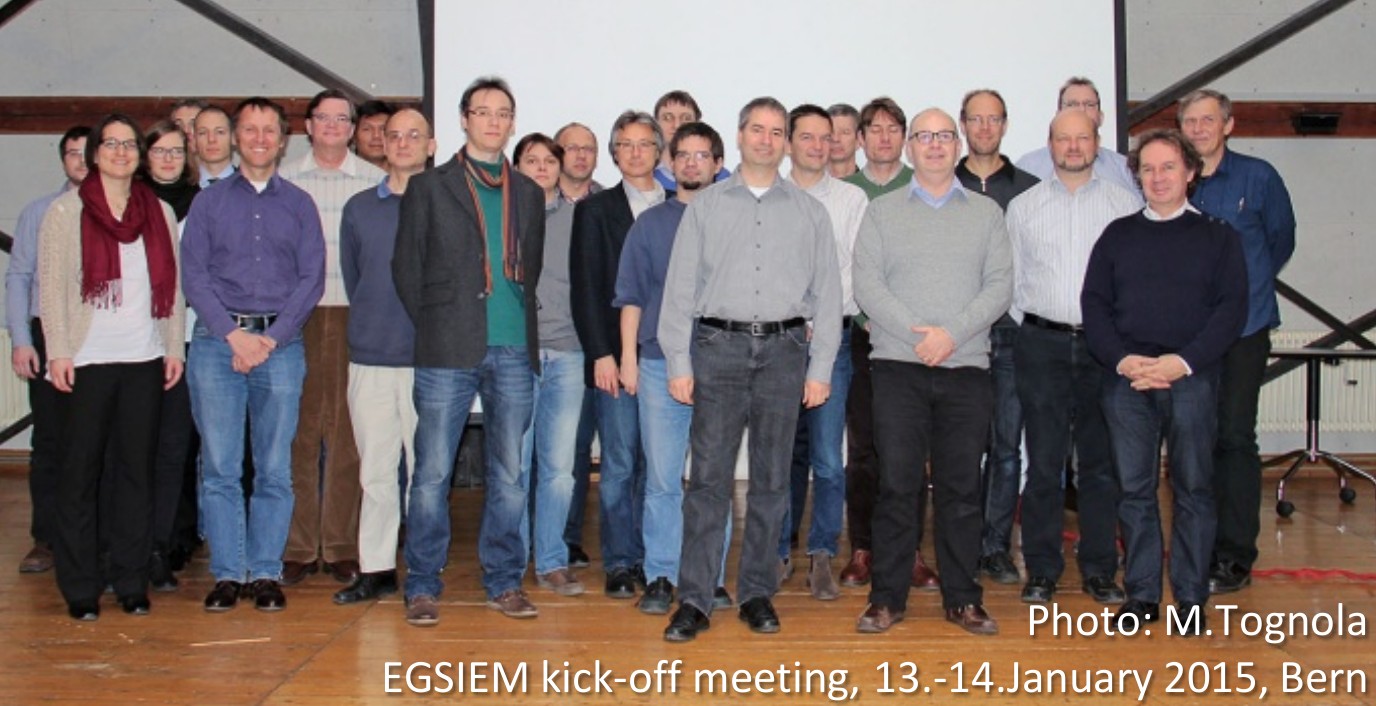 Keith Cann-Guthauser (front row second right) and Adrian Jäggi (front row center) are based at the Astronomisches Institut, Universität Bern.