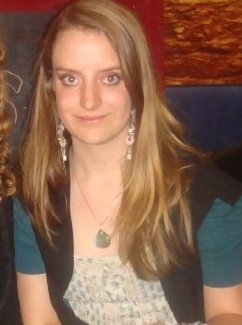 Helen Ashcroft is currently a DPhil student at the University of Oxford. She blogs for the Bang! Science Magazine (Planet Blog) and is also a STEMNET Ambassador, working to promote science, technology, maths and engineering to young people. Helen attended the second meeting of her GfGD University group, to hear a talk by Kate Crowley. Here she gives us an insight into the career a geoscientist could hope to have in the development sector. 
The second meeting of the Oxford Group of Geology for Global Development hosted Kate Crowley, a Disaster Risk Reduction Advisor who gave an illuminating and engaging talk on the work of CAFOD and other Non-Government Organisations in the 40 most vulnerable countries in the world. Kate's work within a Disaster Risk Reduction Team ranges from working directly with local communities to liaising with local governments and getting involved with advocacy; all in order to reduce risk within communities and increase their capacity to deal with the consequences of hazards. CAFOD also works to increase understanding of the causes of poverty and injustice in the world and to bring sustainable aid and support to communities at risk.
Kate had always wanted to link her scientific background with international development. She progressed through an academic career in geohazards up to postdoctoral level before pursuing her career with CAFOD to put her beliefs into practice.
Kate led the audience into discussion to identify hazards, risks and vulnerabilities, revealing unexpected results as to the range of risks that can affect communities along with their knock on effects. Through case studies, Kate demonstrated the successes and challenges that exist and how sustainable change can be built up within communities, although sometimes it can be a steep learning curve that is filled with obstacles! Both communities and aid programs need to be adaptable and armed with the right knowledge in order to be successful and useful.
For CAFOD and other organisations to progress, it is imperative that reliable information can be gained about geohazards such as climate change, volcanic eruptions and earthquakes,  in order to provide the correct support for communities. One thing that Kate highlighted was how different the aid required by different communities can be; each situation needs to be considered in its individual context. For example some communities may need help building preventative measures against flooding, whereas other urban communities may require more help after a large Earthquake has affected the region. In fact CAFOD's main proposition for the 2015 Hyogo Framework for Action, is to give each community a larger voice in order to provide the most efficient help. The Hyogo Framework for Action is a 10 year plan to make the world safer from Natural Hazards.
In addition to the fascinating talk Kate also provided links to educational resources, information about how to get involved and also gave practical careers advice to those who may be interested in working within this sector. This talk was an inspirational reminder that there are other careers available within the Earth Sciences aside from those in the oil and mining industry, perhaps for those who are interested in the social as well as physical applications of their geological knowledge.
Does Kate's work sound like something you could see yourself doing? GfGD are currently advertising a placement with Kate Crowley at CAFOD. Read more about it here, and apply by midday, Monday 4th March.