Online registration to the 2012 General Assembly of the European Geosciences Union (EGU) is open until 22 March 2012. The meeting, taking place in Vienna from 22–27 April, brings together over 10,000 scientists from all over the world and covers all disciplines of the Earth, planetary, and space sciences.
To register, you will need to create an account with Copernicus, our meeting's organiser, if you don't already have one. The registration fee includes the participation in the meeting, free local transportation from Monday–Friday, 23–27 April 2012, the information & schedules book, along with the abstracts USB flash drive.
You also have the option to contribute to EGU on Renewables, a programme to reduce greenhouse gas emissions, and to help support EGU Outreach activities. These include co-sponsoring meetings, such as the Alexander von Humboldt conferences, organising the GIFT programmes for teachers, and running this blog, among many others.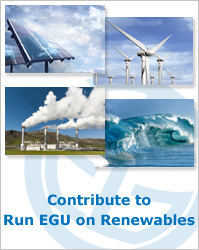 The General Assembly will be held at the Austria Center Vienna at Bruno-Kreisky-Platz 1, Vienna, Austria. For more information about the venue and how to get there, please refer to the Venue page on the General Assembly website. For information on accommodation options, see the Accommodation page.
With over 13,800 abstracts submitted and a preliminary programme featuring more than 700 scientific sessions, the 2012 General Assembly is set to be a great success. We look forward to welcoming you in Vienna!