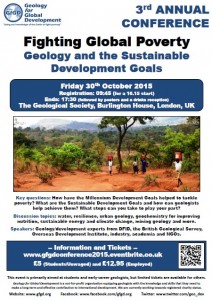 Our 3rd Annual Conference, with the theme Fighting Global Poverty – Geology and the Sustainable Development Goals (SDGs) takes place on Friday 30th October, hosted by the Geological Society of London. 
Session 4 will be a short interactive session with the theme:
"How should the Sustainable Development Goals (SDGs) shape… geoscience education, research, industry practice, NGO engagement?".
Over the next year we will be developing a strategy for GfGD's work that seeks to mobilise and equip the broader geology community to help achieve the SDGs. Session 4 is a great opportunity for delegates to start feeding into this. We're looking for your ideas and perspectives on how the SDGs should shape… 
Geoscience education
Research
Industry practice
NGO engagement.
This short, interactive session will involve small-group discussions, creative thinking and a handful of large posters for you to scribble as many ideas as possible. Come prepared to talk, share ideas and get creative!
—
Register Now: www.gfgdconference2015.eventbrite.co.uk